Father Jailed For Son's Murder
9 June 2015, 18:10 | Updated: 9 June 2015, 19:16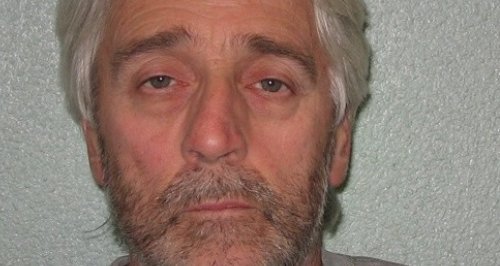 A man who murdered his adopted son and tried to dump his body in the Thames at Deptford has been jailed for at least fourteen and a half years.
Retired fireman Colin McSweeny launched the vicious attack on Shaun McSweeny in his garage because he feared he would take away his beloved granddaughter.

Afterwards, McSweeny, 59, entertained a female police officer who had dropped by to see his wife by making tea and regaling her with amusing anecdotes of his time as a Scout leader, the court heard.

In the early hours, he bundled the body into the boot of his car and drove to Deptford Wharf where he tried unsuccessfully to dump it in the river at low tide, watched by a member of the public who alerted the police.

During the trial, he tearfully denied killing Shaun at his family home in Thornton Heath, south London, on November 20 2014, claiming instead that he believed he was going to be attacked himself with a golf club.

But the jury rejected his explanation and found him guilty of murder.

Sentencing McSweeny to life with a minimum of 14 and a half years, the Common Serjeant of London said: "The word tragedy is greatly over-used but if ever it is appropriate to describe a case in these courts, this is that case."

As well as being a tragedy for his wife, son and the five-year-old child at the heart of the case, the judge said: "It is a tragedy for you as well, as you will have to live until the end of your days with the terrible knowledge of what you did, with all the pain and suffering that has caused."

The court heard that McSweeny killed Shaun because he was preparing to move out with his girlfriend - and take his five-year-old daughter with him - setting the family on a "terrible collision course" over the child.

Until then she had been living with her grandparents - McSweeny and his wife Gloria - who had hopes of gaining permanent custody of their granddaughter as they had become too attached to give her up and did not consider their son a suitable parent.

Prosecutor Crispin Aylett QC told jurors that, on the night of the murder, 24-year-old Shaun, an Autoglass repairman, bought a kebab after work and sat in his van eating it outside the home where he lived with his parents.

The defendant then lured him into the garage and repeatedly hit him over the head from behind with a scaffolding pole wrapped in cling film, fracturing his skull, he said.

After killing Shaun, his wife's police officer friend, Sarah Lavington, went to the house in Parry Road with flowers and chocolates to celebrate Mrs McSweeny's 60th birthday a couple of days earlier.

Mr Aylett said: "What followed can only really be described as surreal - while Shaun's body lay in the defendant's garage, he and his wife entertained a police officer in their living room."

McSweeny made the visitor a cup of tea and he and his wife sat chatting and told her funny stories for a couple of hours, the court heard.

When Mrs Lavington got up to leave at 11.15pm, Mrs McSweeny said she had no idea where Shaun was, adding that he would probably come home drunk and "tread mud all the way up the stairs".

Some time after 2.30am, a man in a flat overlooking Deptford Wharf called police to report seeing someone drag what looked like a body by the ankles from his car to a waterfront wall, before taking it back and driving off.

En route to the scene, Inspector Simon James saw a black 4x4 vehicle going in the opposite direction and went in pursuit.

After the car was stopped by police in Evelyn Street, Deptford, the defendant was asked by an officer if he knew why he had been stopped.

He replied: "Yes."

He was then asked: "What have you got in the car?"

He replied: "A body."

Officers uncovered Shaun's body lying on a heavily bloodstained tarpaulin in the boot.

When asked if anyone else had come to harm, McSweeny said: "No, there's only one body you have to worry about."

McSweeny sobbed in the witness box as he told how he killed his only son, claiming he struck him because he thought he was going to die after telling him he had taken his concerns about custody of the girl to social services.

He told jurors: "He turned around with golf clubs in his hand shouting 'What? You what?'. He was just shaking with rage. I have never seen his face so angry and contorted.

"Shaun had said previously 'If you ever have her taken away from me, I will kill you'. I genuinely thought that he was going to kill me. I expected to get hit by a golf club.

"He was silhouetted. I could see the outline of a man, arms raised. I had the pipe in my hands. I just struck him. I heard his last words were 'Oh Lord', then he fell to the floor."

The defendant denied abandoning his plan to dump the body in the river because the tide was too low, saying he changed his mind and was going to come clean to his wife.

But the judge said: "Whether that is right or not, or whether you were thwarted by low tide, probably matters not. On any view, you are an intelligent man and it is difficult to imagine that you thought that you could or would get away with what you had done, at least in the long term.

"You claimed to the jury that you did what you did in the garage because you believed that your son was about to attack you with a golf club and that he would kill you. The jury rejected that claim and in my judgment they were right to do so.

"Whilst the fact you ran a trial, and did so in a manner which involved a wholesale attack on your son's character, cannot add in any way to your sentence, it was to say the least unattractive and at least gives the impression that you feel little remorse for what you did."

Members of the victim's family wept in court as an impassive McSweeny was sent down to start his sentence.