Fire Kills Woman
25 March 2015, 19:24 | Updated: 25 March 2015, 19:26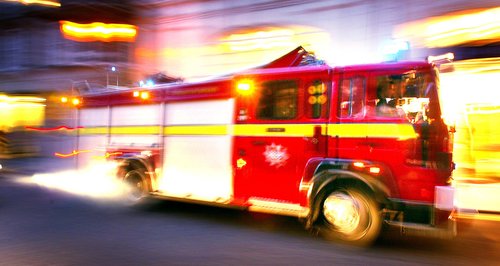 A woman's been found dead and another woman and baby have been rescued after a fire in Forest Gate.
Four fire engines and 21 firefighters and officers were called to a house converted into two flats on Shrewsbury Road in Forest Gate on Tuesday 24 March 2015.

The London Fire Brigade said the fire mainly affected a flat on the first floor, most of which was destroyed. A small area of the ground floor entrance hall and part of the staircase from the ground to the first floor were also damaged by fire.

Firefighters found the body of a woman on the ground floor and she was pronounced dead at the scene.

Crews wearing breathing apparatus rescued a woman and a baby from the ground floor flat and they were taken to hospital by the London Ambulance Service suffering smoke inhalation.

People in neighbouring properties were temporarily evacuated due to heavy smoke logging, but were later allowed to return to their homes.