Fire Sparks Explosions
21 February 2015, 12:27 | Updated: 21 February 2015, 12:37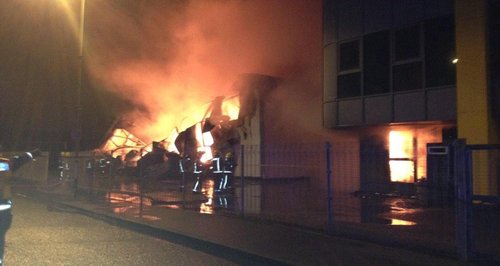 A storage warehouse in south east London has been completely destroyed by a fire that caused loud explosions to be heard nearby.
Picture: London Fire Brigade @LondonFire
Almost a hundred firefighters and 15 fire engines were called to tackle the fire in the early hours of Saturday 21 February 2015.

Two other units and three lorries were also damaged by the fire, which sparked more than 50 emergency calls to the fire brigade from concerned members of the public in south-east London.
Several people reported hearing several explosions.

London Fire Brigade said they brought the blaze under control over the course of more than three hours, and were able to stop it spreading to homes near the scene at Yarnton Way in Erith.

Station manager Norman Perry said: "Fire crews worked hard to bring this under control.

"The blaze was in an industrial area and we managed to stop it spreading to any residential homes.

"We are likely to be at the scene throughout the morning damping down pockets of fire."

The force said the cause of the fire, which broke out around 2am, was not yet known.