Firearms Officer Cleared
4 July 2015, 12:11 | Updated: 4 July 2015, 12:18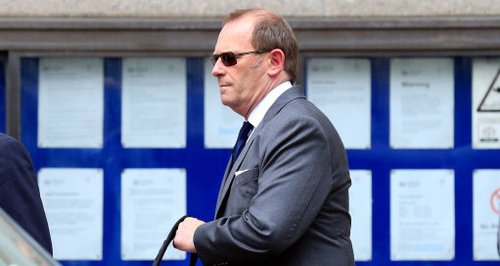 A Met Police firearms officer who shot a suspected armed robber six times has walked free from court after ten years of controversy surrounding the killing.
Anthony Long, 58, (pictured) allegedly took just six hundredths of a second to open fire on Azelle Rodney, 24, after his unmarked police car pulled up as part of an operation to foil an attempted robbery on Colombian drug dealers.

A trial heard he fired off eight shots in 2.1 seconds, six of which fatally injured Mr Rodney who was the back seat passenger of a Volkswagen Golf which was boxed in during the "hard stop" by armed police in Hale Lane, Mill Hill, north London.

In making the split-second decision to open fire with his police-issue Heckler and Koch G36C Carbine, the prosecution asserted Mr Long would not have had time to see whether Mr Rodney was doing anything that might pose a risk to the public and police.

The court heard that Mr Long's gun was a short-barrelled semi-automatic rifle and therefore the trigger had to be pulled for each shot fired.

But the retired officer, who was commended seven times during his distinguished 33-year career with the force, denied murder and maintained that he believed his colleagues were in "imminent" danger.

He told jurors: "I was absolutely convinced that he'd ducked down, picked up a firearm, that he posed an imminent threat to my colleagues."

At the time, police intelligence had suggested that Rodney and the two other occupants of the car, were armed with at least one deadly machine gun as they prepared to strike the Colombians in Edgware, north London on the evening of Saturday, April 30 2005.

However, a search of the car later revealed that although there were three weapons, none were automatic and only one was loaded, the court heard.

The jury was not told the outcome of a judge-led inquiry in 2013 which concluded that the shooting was not legally justified and Long's accounts of what he saw in the seconds before opening fire should not be accepted.

Details of Long's operational history, which included an incident in which he shot two other suspects dead, were not divulged in evidence either.

After deliberating for 12 hours and nine minutes the Old Bailey jury found Mr Long not guilty of murder.

Mr Long nodded to the trial judge Mr Justice Sweeney as he was discharged and smiled as he shook hands with his two dock officers.

Afterwards, he said: "I am very grateful to the jury for returning a not guilty verdict. It has been very difficult facing trial for something that happened 10 years ago when I had acted to protect the lives of others as a part of my job and based on my training and experience.

"Police firearms officers do not go out intending to shoot people and, like me in this case, have to make split second life or death decisions based on the information available to them at the time.

"I want to thank my family and friends who have stuck by me and supported me during this difficult time. I also want to thank the Police Federation that has supported me throughout and my legal team from Slater and Gordon."

Mr Long's lawyer, Scott Ingram from Slater and Gordon, added: "Mr Long has always maintained his innocence and he is relieved at today's verdict. He can now draw a line under the matter which has dominated his world over the past 10 years and get on with the rest of his life."

But Mr Rodney's mother Susan Alexander, who has fought a long battle to find out the full circumstances of her son's death, repeated her view that her son's death was "wholly avoidable".

Ms Alexander said she was still waiting for an unreserved apology from the police and Independent Police Complaints Commission over the affair.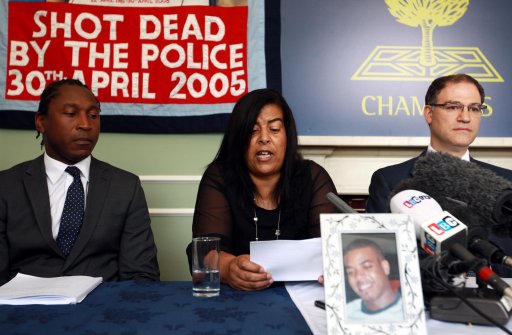 She said: "Almost exactly two years ago, I welcomed the thorough and excellent public inquiry report of Sir Christopher Holland published on 5 July 2013.

"I said then that I hoped the report would be ground-breaking and cause a shift in thinking by the police. I fear there are too few signs of any such shift and that this verdict today may be misinterpreted by officers of all ranks, and hold up needed reforms.

"I am still unclear on whether the police fully accept the recommendations made two years ago and that similar deaths in the future have been made less likely.

"I also said in July 2013 that Azelle's death was wholly avoidable. I repeat that his death was wholly avoidable, but I of course accept that the jury has spoken."

She went on: "Now that the jury has done its job my family and I have to draw a painful line under the last 10 years; I need some time to myself to grieve properly for the loss of my 24-year-old son.

"I said two years ago, and repeat now, that I do not seek to justify what Azelle was doing on the day he died. But he was entitled to be apprehended, and - if there was evidence - to be charged and brought before a court of law to face a trial before a jury, but not to die at the hands of the police. We do not have the death penalty in this country."

The trial had heard how a detailed analysis of the shooting was pieced together with the help of a video which was recorded for training purposes on a hand-held camera by another officer in the team.

Jurors were shown the video and computer generated reconstruction which included audio of an unidentified man - not Mr Long - exclaiming "Sweet as... sweet as... sweet as" as the shots rang out in rapid succession.

Assistant commissioner Patricia Gallan, who is in charge of specialist crime and operations, said: "Police officers are not exempt from the law, and would not wish to be.

"However, standing trial for murder will have been a very stressful and difficult time for Tony Long, a police officer for over 30 years. The impact that this will have had upon him, and his family, should not be underestimated.

"This must also have been a difficult time for Mr Rodney's family. The MPS regrets Mr Rodney's death, and we express our full sympathy to his family."