Fireworks Tickets
20 May 2015, 19:17 | Updated: 20 May 2015, 19:21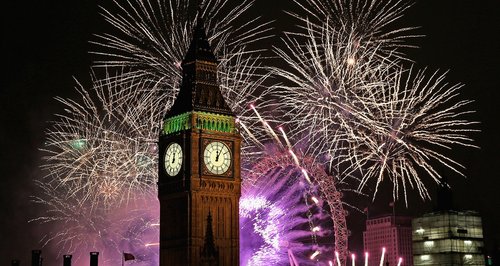 If you want to watch the Mayor's fireworks on the Embankment this New Year's Eve you're going to need a £10 ticket again.
City Hall's announced the event will be ticketed again, following a successful trial in 2014.

To help those coming from far away, or needing to plan ahead, a limited number of tickets are being released on 19 June 2015. The bulk of tickets will be released in September.

The Mayor of London, Boris Johnson, said: 'We are planning another stunning display to celebrate New Year and showcase London around the world. As in 2014 you will need a ticket, as part of our efforts to ensure the event is as safe as possible, but even if you do not have one there will be plenty of fantastic celebrations going on across the capital to help non-ticketholders bring in 2016 with a bang.'

Ticketing was brought in for the first time last year to help manage ever increasing crowd numbers heading into central London for the annual celebration. The aim was to reduce numbers to help ensure its long term sustainability as a safe and enjoyable event.
As well as being enjoyed by revellers in the viewing areas, the internationally acclaimed display is watched by millions on television and helps promote London around the world.

Anyone without a ticket will not be able to get into this year's event. Since 2003 the number of people wanting to watch the display had grown from about 100,000 to more than half a million in 2013.
Hundreds of thousands of people headed into central London, a large proportion of whom were unable to see the display at all, leaving them disappointed and with nowhere to go at midnight.
The sheer numbers threatened the emergency services ability to respond to a major incident effectively, and left many thousands of people cold, tired and unable to get anywhere near the event.

Following the introduction of ticketing, on 31 December 2014 crowds were estimated to have been reduced significantly from 500,000 in 2013 to less than 350,000 - making the event more enjoyable for people and reducing the pressure placed on the emergency services.

This year, anyone without a ticket will still be able to take advantage of the hundreds of other celebrations taking place in pubs, bars, clubs and restaurants all over London.

People wanting to find out more and sign up for updates about ticketing and this year's event should visit the website at
www.london.gov.uk/nye.