First Lady Meets Schoolgirls
16 June 2015, 19:01 | Updated: 16 June 2015, 19:09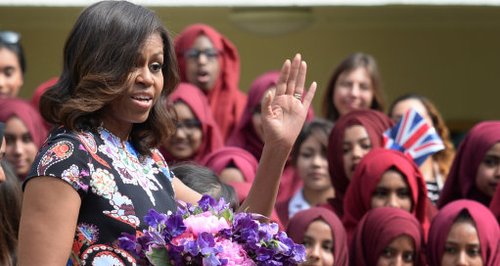 Michelle Obama's been greeted by loud cheering and screaming on a visit to a girls' school in east London.
Once the ear-splitting screaming and cheering had died down, students from the Mulberry School For Girls in the heart of London's East End retook their seats and heard Mrs Obama call for more help for the world's poorest girls to get educated.

It happened after Mrs Obama, her daughters, Malia, 16, and 14-year-old Sasha and her mother, Marian Robinson, took tea with Prince Harry at Kensington Palace.

Harry, 30, who is known to get on famously with Mrs Obama, was "very pleased" to host her and "delighted" to meet her family, Kensington Palace said.

The Obamas spent around 40 minutes chatting with Harry. It follows on from the warm welcome he received at the White House during his trip to the US two years ago when he was a surprise guest at her Mother's Day tea for military mothers in the US in 2013. .

A Kensington Palace spokesman said: "They discussed their shared interest in support for veterans and their families. Prince Harry was also interested to hear from the First Lady about the Let Girls Learn initiative to further adolescent girls' education around the world, which is the focus of her visit to the United Kingdom."

Visibly moved by the warm welcome at Mulberry School, Mrs Obama told the 11 to 18 year-old pupils that they were "powerful" and "beautiful" and she wanted them to succeed.

Speaking as a black woman who also comes from a working-class background, she told the packed hall that she understands the challenge of being "overlooked" and undervalued.

She said: "With an education from this amazing school you all have everything, everything you need to rise above all of the noise and fulfil every last one of your dreams."

Despite facing Islamophobia and poverty, 83% of the students from the Tower Hamlets school, including many from ethnic minorities, manage to secure a place at university.

Mrs Obama said: "The world needs more girls like you to lead our parliaments, our boardrooms and our universities. We need you for tackling the problems of climate change, poverty and disadvantage."

Mrs Obama also met International Development Secretary Justine Greening and Education Secretary Nicky Morgan. A joint US/UK mission to improve access to education was announced in an effort to tackle the problem of around 62 million girls worldwide who are not in school.

A five-year programme in the Democratic Republic of Congo will aim to give 450,000 children the chance of a primary school education and to help almost 1.4 million girls and boys learn to read has been given the go-ahead.

Forced marriages, early pregnancies, abuse and sexism are some of the "heartbreaking injustice" which rob many girls of the chance to go to school, according to Mrs Obama.

She wrote in the Financial Times: "That kind of life is unthinkable for the girls in our lives, so why would we accept this fate for any girl on this planet?"

Former Australian prime minister Julia Gillard, who is chairman of the Global Partnership for Education, also took part in the series of talks aimed at inspiring the youngsters.

Mrs Obama is also due to meet Prime Minister David Cameron and his wife Samantha.

Mrs Obama, Malia, Sasha and Mrs Robinson later dropped in for tea with Mr Cameron and wife Samantha in Downing Street.

Sweeping up to the door of Number 10 in a seven-vehicle convoy, the First Lady posed on the steps with the Camerons before the party went inside for around 45 minutes.

The only response to questions from journalists as she left was a wave.