Flat Fire Rescue
12 April 2015, 11:41 | Updated: 12 April 2015, 11:46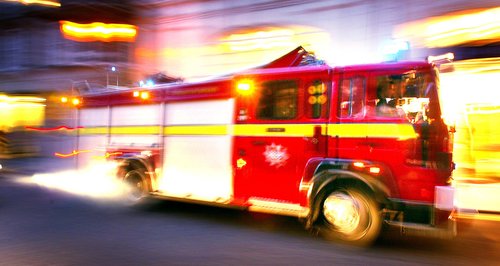 Four Met Police officers have had to be treated for the effects of breathing in smoke after rescuing an unconscious man from a flat fire in South Kensington.
Officers on patrol were flagged down in Roland Gardens, SW10, shortly before midnight on Saturday 11 April 2015 after a fire broke out at a flat.

Officers forced entry to the property and rescued the man who was unconscious inside the flat. There were no other people present.

London Ambulance Service also attended and the man was taken to hospital suffering from smoke inhalation. His condition was not believed to be serious.

Four officers were also treated by London Ambulance Service for the effects of smoke inhalation - they have all now returned to duty.

Inspector Chris Downs of Kensington and Chelsea police said: "These officers acted with great courage. Their quick thinking and heroic actions in entering a burning flat and rescuing the occupant have averted a potentially lethal situation.

"This incident demonstrates the bravery shown by police officers as they go about their daily business."