Gandhi Statue
14 March 2015, 11:27 | Updated: 14 March 2015, 12:35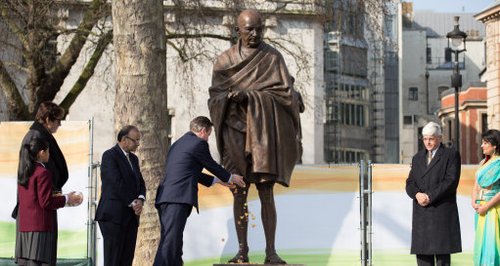 A new statue of the Indian independence campaigner Mahatma Gandhi's been revealed in Parliament Square.
Prime Minister David Cameron and Indian finance minister Arun Jaitley were joined by Gandhi's grandson, the former governor of West Bengal, Shri Gopalkrishna Gandhi, and Amitabh Bachchan, one of India's most prominent actors.

A band played Indian classical music on sitar, Indian flags festooned the square, and schoolchildren stood in the crowd to watch the ceremony on Saturday 14 March 2015.

The Prime Minister said: "This statue is a magnificent tribute to one of the most towering figures in the history of world politics and by putting Mahatma Gandhi in this famous square we are giving him an eternal home in our country.

"Many of his teachings remain as potent today as when he first made them.

"'The best way to find yourself is to lose yourself in the service of others' and 'Be the change that you want to see in the world' remain timeless, profound and inspiring words of wisdom.

"This statue celebrates the incredibly special friendship between the world's oldest democracy and its largest, as well as the universal power of Gandhi's message.

"Our ties with India have remained close throughout history and continue to go from strength to strength - through mutual respect as equals, co-operation and trade, and of course through the one and a half million Indians who do so much to make Britain the country it is today, bringing our two countries closer, to the benefit of both."

The sculpture was created by Philip Jackson, inspired by a 1931 photo of Gandhi at No 10 Downing Street, where he met the then prime minister Ramsay MacDonald.

The Prime Minister said about Gandhi's time in London in 1931: "On that same visit, he also went to see King George V.

"Arriving bare-chested in his dhoti, and marching ahead with his stick, he was asked if he felt under-dressed. He replied, 'The King is dressed for both of us'.

"The man who turned the politically unimaginable into the politically inevitable; whose work in South Africa paved the way for Nelson Mandela; a man whose doctrine became the inspiration for the civil rights movement across the world.

"It was in London as a young man that Gandhi first learned to petition, to draft letters, to make speeches.

"It was here where he was treated fairly by his colleagues at the Inner Temple; that the foundations were laid for his battles against segregation and discrimination.

"And even years later, when he was striving for Indian independence, his respect for the people of this country shone through.

"If Gandhi could have lived anywhere in the world outside India, he said it would have been here in London. We should be proud of that and we should be proud of him."

Mr Jackson said after the ceremony: "Starting a sculpture is really like starting a book.

"I read everything I could about him, I looked at all the available images there are of him. I watched the famous Gandhi film - only once, because I didn't want it to start looking like Ben Kingsley.

"One of the best things was meeting Gopalkrishna Gandhi, so I could get an insight into his character and the sort of man that he was. And that's very important.

"It was considered by everyone that he was a man of the people, and therefore he should be kept at an accessible height.

"Somehow we manage to have acquired the best site in Parliament Square for the sculpture.

"He's got the Supreme Court behind him, which is very appropriate, the Houses of Parliament in front of him. And he's flanked by Nelson Mandela on one side, Abraham Lincoln behind him and Winston Churchill in front of him, so you can't ask for more than that."

Mr Jackson is known for statues of the Queen Mother and the Bomber Command memorial.