Hackney Fire
15 June 2015, 19:07 | Updated: 15 June 2015, 19:13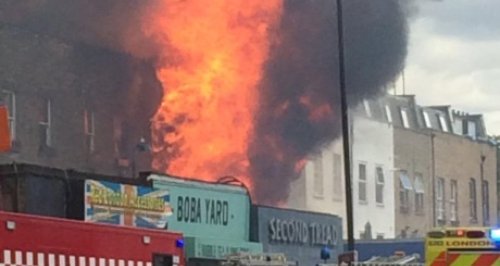 A man's had to be taken to hospital with burns and for the effects of breathing in smoke after a big fire at a row of shops in Hackney.
Picture: @MarkWake on Twitter
More than 70 firefighters have been tackling the fire which started on Yorkton Street just after 1pm on Monday 15 June 2015.
The fire led to thick black being visible for miles around.
Local people were asked to keep windows and doors closed.
Station Manager Keith Cunnew from the London Fire Brigade said: "A member of the public spotted smoke and called the Brigade.
"On arrival crews wearing breathing apparatus helped three women and three men to leave the properties either side of the fire and two other people left the property before the Brigade arrived. The structure of the building has been seriously damaged by the blaze.
"We expect to be at scene for a number of hours. We are making good progress, but it will take some time to fully damp down the fire."
Video: Harry Richardson