Heathrow Breaks Record
1 July 2015, 19:07 | Updated: 1 July 2015, 19:11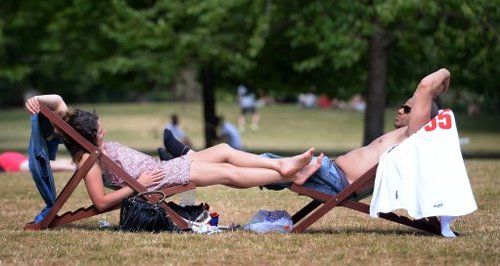 The UK has had its hottest July day on record as temperatures on Wednesday 1 July hit 36.7C at Heathrow Airport.
The heat caused roads to melt and trains to be cancelled.

Urgent health warnings were issued and paramedics dealt with a surge in calls amid fears the hot weather could result in deaths.

The Met Office said temperatures broke the previous record of 36.5C (98F) set on July 19 2006 in Wisley, Surrey.

Wimbledon recorded the hottest day in its history as players sweltered in the searing heat of Centre Court.

The London Ambulance Service said it had seen call-outs to people fainting increase by more than a third (35%) compared to the same day last week, and a 28% hike in the number of calls it has received over the same period.

Britain's trains were blighted by delays and cancellations as Network Rail imposed speed restrictions on some lines amid fears the metal tracks could buckle under the searing heat.

Motoring group AA said it had been called out to reports of road surfaces melting in the heat, bringing disruption to drivers.

And fresh warnings about the dangers of outdoor swimming in the sunshine were issued after a man's body was recovered from a reservoir in Tattingstone, Suffolk, at about 8pm yesterday.

The Met Office recorded a temperature of 36.7C (98F) in Heathrow, making Britain hotter than Barcelona, Ibiza and Athens.

And bookmakers have slashed the odds on it being the hottest ever summer.

Bottled water was handed out to lorry drivers stuck in the heat in huge tailbacks on the M20 in Kent, caused by striking ferry workers who have closed the Port of Calais.

Water was also handed out to passengers at Greater Anglia stations, including Ipswich and Norwich, as health experts urged people to keep hydrated.

A spokesman for the AA said: "The AA are receiving anecdotal reports from patrols that show that in places the road surface is softening, but there are no widespread problems at the moment. But if this continues we could start to see that.

"There was a man who put the stand down on his motorbike and it sank into the tarmac. The roads are soft in places.

"We have been very, very busy today."

A spokeswoman for Network Rail said metal rail tracks could get 20C (68F) hotter than the air temperature, meaning they could reach 56.7C (134F), prompting fears the steel could expand and buckle.

She said they were monitoring track temperatures and speed restrictions were in place across a number of lines.

One train operator advised passengers to avoid travelling between 1pm and 7pm, while employers have been urged to allow staff to travel outside rush hour to avoid hot, overcrowded public transport.

Public Health England warned people to try to keep out of the sun between 11am and 3pm, and called on the public to look out for the elderly, young children and those with serious illnesses.

Independent Age, a charity representing older people, said Britons should check on their elderly neighbours.

Janet Morrison, the charity's chief executive, said: "Older people can suffer adverse effects on their health during the hot weather and can be more vulnerable to illnesses such as heatstroke, heat exhaustion and dehydration.

"We would encourage the elderly to keep hydrated and as cool as possible, keeping out of the heat and sun.

"We would also urge family and friends to look out for their elderly neighbours in particular, checking that they have the support they need to get through these extreme weather conditions."

Air pollution is high in parts of East Anglia and moderate across most of Britain, prompting health warnings from the Department for Environment, Food and Rural affairs (Defra).

On their website Defra said: "People with lung disease, children, the elderly and people who are active outdoors may be particularly sensitive to ozone and may begin to notice respiratory symptoms, such as coughing and throat irritation."

Train lines across the south, east and west of Britain implemented speed restrictions while some trains were cancelled or delayed.

There was further misery for commuters battling the heat as a stretch of the M1 in Derbyshire was closed after an HGV lorry carrying explosives caught fire at around 1pm.

The weather got so hot male journalists in the House of Commons were allowed to break with tradition and take off their jackets and ties in the press gallery.

Jackets and ties had been strictly enforced by Commons doorkeepers for several years, since former speaker Michael Martin tightened standards.

John Bercow, the current speaker, approved a request from journalists as temperatures continued to rise.