Heathrow Protestors In Court
19 August 2015, 17:19 | Updated: 19 August 2015, 19:22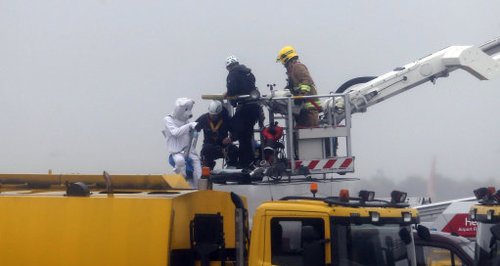 Thirteen climate change activists accused of taking part in a demonstration at Heathrow Airport that grounded flights have appeared in court.
Members of activist group Plane Stupid are accused of cutting a hole in a fence and chained themselves to railings on the north runway on July 13 2015 in a protest against airport expansion.

Before their hearing at Uxbridge Magistrates' Court in west London, they staged a protest, arriving together and stopping for a statement to be read on their behalf.

Surrounded by supporters - four dressed in polar bear costumes and others wearing David Cameron masks - carrying placards, the 13 arrived to chants of "No ifs, no buts, no third runway!".

One of the accused, Sheila Menon, read: "Some of us are part of the local community that is already feeling the hugely negative impact of existing air traffic from Heathrow by way of noise and air pollution, and blight on the area."

She added that the UK had more than enough capacity to deal with the "ordinary people" taking their annual holidays, and that airport expansion is being driven by a "minority of wealthy frequent flyers".

Menon concluded that the Government was failing to act responsibly, adding: "It is against this background and the failure of democratic processes, we believe our actions were reasonable, justifiable and necessary."

The activists are charged with aggravated trespass and entering a security restricted area of an aerodrome.

The demonstration at around 3.30am on July 13 caused delays for passengers around the world and 22 flights out of the airport were cancelled.

It came after a long-awaited report recommended a new runway should be built at Heathrow rather than Gatwick.

After three years of investigation, the Airports Commission said Heathrow was best placed to provide "urgently required" capacity.

But environmentalists warned that building a new runway there will make it harder to reduce air pollution and climate change emissions.

The defendants are:

:: Rebecca Holly Sanderson, 27, of Newton Road, Machynlleth, Powys

:: Richard Steven Hawkins, 32, and Kara Lauren Moses, 31, both of Heol y Doll, Machynlleth, Powys

:: Ella Gilbert, 23, of Magdalen Street, Norwich

:: Melanie Strickland, 32, of Borwick Avenue, Waltham Forest, north-east London

:: Danielle Louise Paffard, 28, of Blenhiem Grove, Peckham, south-east London

:: Graham Edward James Thompson, 42, of Durlston Road, Hackney, north-east London

:: Sheila Menon, 43, of Pellerin Road, Hackney

:: Cameron Joseph Kaye, 23, Edward Thacker, 26, Alistair Craig Tamlit, 27, and Sam Sender, 23, all of Kenwood Close, Sipson, West Drayton, west London

:: Robert Anthony Basto, 67, of Blackborough Road, Reigate, Surrey

The seven men and six women, supported by a packed public gallery, took turns to stand and plead not guilty to both charges.

It is alleged that on July 13 they entered the northern runway at London Heathrow Airport, having trespassed on the land, and in relation to a lawful activity, namely the operations of landing and departing of aircraft which persons were engaged in on that land, did an act, namely erected a temporary structure and locked themselves to it, or within it, with the intent of disrupting that activity.

The second charge alleges that they entered a security restricted area of an aerodrome without permission.

It is thought the case will last two weeks, with each defendant expecting to give evidence.

All the defendants were released on bail on the condition not to enter Heathrow or the area considered to be its perimeter, and a trial date was set for January 18 2016.

A number of the group's supporters, a total of about 40 people, were unable to get into the court room due to lack of space and stood outside for the morning, waiting for the hearing to finish.

One of them, who wished only to be named as Margo, said: "I am here to support the amazing, brave activists and to show my solidarity with them.

"If they get found guilty then it could be an incredibly terrifying sentence for them, because it is a big thing they are being accused of."