Heist Pictures Released
22 April 2015, 19:13 | Updated: 23 April 2015, 19:16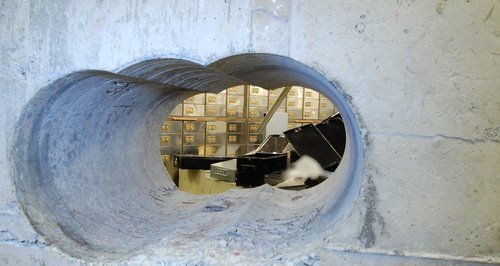 Police have released dramatic new images of inside the audacious Hatton Garden jewellery raid.
The pictures show how the gang neatly tunnelled into the vault through concrete walls to ransack 72 security boxes over the Easter weekend.

When the raid was finally discovered, officers found the vaults covered in dust and debris and the floor strewn with discarded boxes and numerous power tools, including an angle grinder, concrete drills and crowbars.

Police have also revealed details of how they believe the extraordinary raid was executed over a possible four days between Thursday April 2 and Sunday April 5.

The raid was discovered only when staff returned on Tuesday April 7 following the long Bank Holiday break.

Officers believe the gang entered the building, which houses a number of businesses, through a communal entrance before disabling the lift so they could climb down the lift shaft to the basement.

They forced open shutter doors and bored holes into the vault wall where they then had free access to the safety deposit boxes.

The Flying Squad have now completed their forensic examination of the scene, having recovered around 400 items of evidence and thousands of hours of CCTV images.

Detective Superintendent Craig Turner, head of the Flying Squad, said: "We have now completed our forensic examination of the scene.

"The hours of forensic work and inquiries have been vital in order to ensure we are able to exploit all investigative opportunities to their fullest extent and assist us in identifying those individuals responsible.

"We appreciate that this situation has been frustrating for those affected by this crime and thank those individuals for their ongoing patience and support."

The suspects used a heavy duty drill - a Hilti DD350 - to bore a hole 20in (50cm) deep, 10in (25cm) high, and 18in (45cm) wide to gain access to the vault.

Scotland Yard said it is continuing to review why officers were not sent to investigate an intruder alarm set off at Hatton Garden Safe Deposit shortly after midnight on the Friday.

A call was received by the force's Computer Aided Despatch system from the security company but no police response was deemed necessary.

A police statement said: "An internal investigation is ongoing to identify why this grade was applied to the call in conjunction with the alarm company.

"It is too early to say if the handling of the call would have had an impact on the outcome of the incident."

Of the 72 boxes opened during the burglary, officers have only been able to make contact with six people who are believed to be victims.

The Metropolitan Police said they have made no arrests in connection with the investigation.