Holborn Fire
3 April 2015, 12:38 | Updated: 3 April 2015, 12:44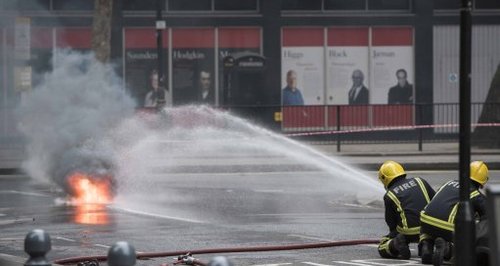 An underground fire in Holborn that led to several West End shows being cancelled has now been put out.
The fire burned for nearly two days, after igniting on Wednesday 1 April 2015.
It involved underground cabling and a gas supply.
London Fire Brigade said they would remain on scene to monitor gas levels but we have now handed the responsibility for the incident over to Camden Council as the Local Authority who will work with National Grid and UK Power Networks to restore gas and electricity supply to local homes and businesses.
London Fire Brigade Assistant Commissioner Dominic Ellis said: "I want to thank everyone involved in this incident for their hard work over the last few days. This has been a complicated and difficult incident to manage.
"The reason it took so long to extinguish the flames is because of the dangers involved in extinguishing the fire before the gas supply is shut down, which could result in the risk of a gas explosion. Firefighters managed the fire by applying water through access points which helped to stop it spreading protecting local buildings and businesses."