Horse Unveiled On Fourth Plinth
5 March 2015, 11:17 | Updated: 5 March 2015, 13:03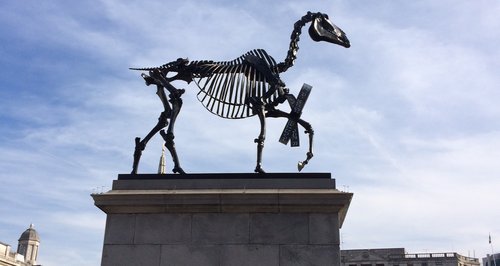 A new statue has been unveiled on the fourth plinth in Trafalgar Square.
'Gifthorse' by German artist Hans Haacke has replaced the giant blue cockerel that sat on the popular plinth for 18 months.

The horse skeleton, complete with an electronic tickertape showing stock prices, was designed to fit in with the other more traditional sculptures in the square.

Haacke said: "I hope the other two horses on Trafalgar Square, the one carrying Charles I, strutting, and the other, with George IV on its back, rather stoic, accept the newcomer graciously and recognise that their temporary companion has a lot to talk about."

He added that he hoped tourists would be "intrigued by what the ticker of the London Stock Exchange tells them about their fortunes".

Lois Rowe, programme director of fine art at Wimbledon College of Art at the University of the Arts London, said the plinth had made a real difference to how people in the capital view art.

She said: "Like the Tate's turbine hall, the fourth plinth attracts a new audience for art that isn't simply made up of people who go to art galleries. It has, in a way, broken down some of those cultural barriers around who looks at art and those who are capable of engaging with it.

"This is a very exciting thing for London and I think, more globally, other cities should be looking at the fourth plinth as leading in this way."