Knife Killer Sentenced
14 April 2015, 19:17 | Updated: 14 April 2015, 19:24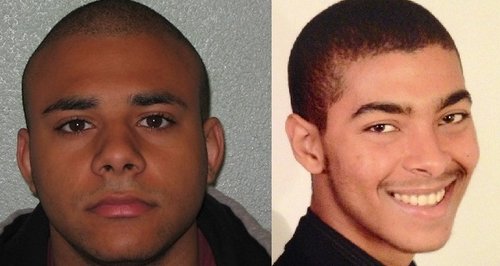 A teenager from South London's been locked up for at least 16 years for stabbing to death an 18 year old who had been trying to protect his friend.
Giovanni Dixon, 17, (pictured left) was part of a gang of youths who had been smoking cannabis before they set upon Ezekiel Andrews with knives outside a fried chicken shop in Sydenham, south London, in the early evening of May 31 2014.

Mr Andrews, now 18, who was described as a "tall and somewhat awkward boy", was punched to the ground, kicked and stabbed three times in the buttocks.

His friend James Hunter, 18, (right) "bravely and reasonably" stepped in to protect him but Dixon rejected his suggestion they fight "one on one" and stabbed him in the heart.

Mr Hunter died instantly in front of "shocked and horrified" locals of Wells Park Road, the Old Bailey heard.

After the murder, Dixon "jovially and gleefully" described what he had done as he made his getaway on a bus with Jerome Catterall, 18, Jason Odumusi, 17, and Benedict Leka, 16.

The four youths had launched the attack on Mr Andrews in retribution for a perceived slight to their friend Jacob Ayoade who had encouraged them in a series phone messages.

The court heard that during a row with Mr Andrews in the Wells Park area of Sydenham weeks before, Ayoade, 17, had threatened to "nank him up" - meaning stabbing.

He went on to repeatedly complain about Mr Andrews to his friends who all shared his interest in knives and asked for help to get a blade.

A second time the pair came across each other at a bus stop in Forest Hill, Ayoade pulled up his top to display a knife tucked into his waistband but Mr Andrews punched him, got hold of the blade and threw it away.

Following a trial, Dixon was found guilty of murdering Mr Hunter and wounding Mr Andrews with intent.

He was sentenced to life with a minimum of 16 years for murder plus four years and six months to run concurrently.

Judge Rebecca Poulet QC said all the boys had demonstrated a "preoccupation almost bordering on obsession with knives".

She told Dixon: "You had trained as a boxer and could have thrown down the knife, you could have used your fists, but you did not."

Catterall and Odumusi, who were cleared of Mr Hunter's murder but convicted of wounding his friend, were both locked up for four years and six months while Leka, who was just 15 at the time, received four years for the same offence.

Turning to Ayoade, Judge Poulet said: "You intentionally encouraged this crime. You never actually stated that you wanted the others to go out and wreak this terrible wounding vengeance on Ezekiel Andrews but you knew their character and their interest in knives."

She sentenced him to three years for encouraging the offence plus nine months to run concurrently for possessing a knife.

Old school friends Dixon, of Norwood, Catterall, of Sydenham, Odumusi, from Catford, Leka, from Forest Hill, and Ayoade, from Forest Hill, denied the charges against them.

Despite their ages, Judge Poulet lifted a ban on naming all the defendants in light of their convictions.

She also paid tribute to Mr Hunter's mother who had been "quiet and dignified" throughout the trial.