Laughing Gas Ban
28 July 2015, 19:13 | Updated: 28 July 2015, 19:17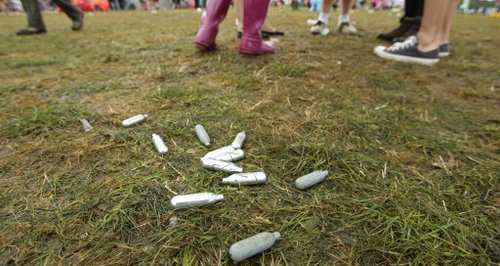 Lambeth's set to become the first area of the UK to ban the use and supply of laughing gas in public.
Discarded laughing gas canisters at a music festival
Lambeth's cracking down on nitrous oxide by banning the use and supply of legal highs in public areas across the whole borough.

A spokesman for Lambeth Council said it is believed to be the first in the country to specifically target the substance, also known as hippie crack.

Anyone caught breaching the Public Spaces Protection Order (PSPO) could face a fine of up to £1,000.

It's thought the government will soon introduce tough new laws which will make selling nitrous oxide a criminal offence punishable by up to seven years in prison.

At least 17 deaths were caused by the so-called legal high in the UK between 2006 and 2012, and a teenager who died at the weekend is believed to have taken it.

The youngster, named in reports as Ally Calvert, 18, was taken to hospital after he collapsed in the street in Bexley, south-east London on Saturday night but died two hours later.

Police said he is believed to have attended a party where he may have been drinking alcohol as well as ingesting nitrous oxide. His death is being treated as unexplained pending the findings of a post-mortem examination.
Lambeth's cabinet member for neighbourhoods, Jane Edbrooke, said: "Legal highs are simply not safe - we saw that just days ago with the death of a teenager who had inhaled laughing gas.

"It is our duty to keep our residents safe and this new order should deter people from supplying and using legal highs in the borough.

"The litter and anti-social behaviour associated with certain legal highs has also blighted areas like Vauxhall and Clapham and now we have the power to do something about it."

The council first started receiving complaints from residents regarding laughing gas in the summer of 2014 and there have been 57 separate reports by police regarding legal highs in the borough over the last 12 months, with incidents including robbery, theft, anti-social behaviour and sexual assault.

Local authorities have the power to come up with their own laws to tackle anti-social behaviour under the Anti-social Behaviour, Crime & Policing Act 2014.

The new rules come in to force in Lambeth on 17 August 2015.