Mafia Fugitive's Sentence Dropped
1 April 2015, 19:07 | Updated: 1 April 2015, 19:09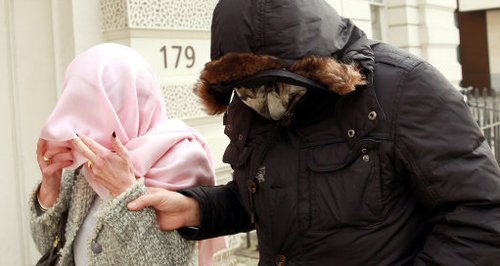 A Mafia fugitive who was set to be extradited to Italy from London following a long legal battle has had his sentence dropped.
Domenico Rancadore, from Uxbridge, who has lived in Britain for more than 20 years, was given a seven-year sentence by an Italian court in 1999 for being a member of the Cosa Nostra.

In February 2015, he lost his year-and-a-half battle against extradition and was told he must return to Italy to serve his sentence.

It's now emerged that the 65-year-old's case expired last October and his European Arrest Warrant is to be withdrawn.

Although his conviction remains intact, Italian law states that a sentence is extinguished once a period of more than double the time of the penalty has passed.

The case will still have to be heard by the Italian Supreme Court, according to the Crown Prosecution Service.

Rancadore's solicitor Karen Todner said: "Yesterday the Italian Court of Appeal agreed to extinguish the conviction of Domenico Rancadore on the basis that the conviction is too old to sustain a prison sentence.

"I am therefore confident that the Italian government will now withdraw their application for a European Arrest Warrant and that Mr Rancadore will be discharged from these proceedings.

"There has been a long and unhappy history of these proceedings and I am delighted Mr Rancadore will now be able to live in peace in England with his wife and family."

Ms Todner said she was waiting for the CPS to sign a consent order so that the court could discharge Rancadore.

Once the paperwork is in order, the matter will be listed at Westminster Magistrates' Court in central London and judge will then have to approve it.

The Italian mobster does not have to be present when the matter is dealt with in court.

He was first arrested on a European arrest warrant at his semi-detached London home in August 2013.

Although he was never convicted of murder, the Italian authorities wanted him to be returned to the country after he fled in 1995.

Known as the Professor, Rancadore was tried in absentia and handed a seven-year prison term for his "Mafia association".

Protracted extradition proceedings saw District Judge Howard Riddle reverse his initial decision over concerns that Italian prison conditions would breach his human rights because he has a serious heart condition.

In his judgment Judge Riddle said: "I am satisfied that, even without the assurance, there is no real risk that by returning this defendant to Italy he will suffer inhuman or degrading treatment."

Before his arrest in 2013, the Mafia don spent two decades living under the name of Marc Skinner with his family in a house surrounded by a fence and large hedge, obscured from view.

He claimed he had changed his name to escape the notoriety associated with his father, Giuseppe.

Rancadore's father was imprisoned in 1987 as part of the maxi trial which saw 475 Mafiosi indicted.

The Italian Embassy in London appeared to lay the blame for his release on a mistake made by the CPS, which delayed the process.

The CPS admitted in March last year that it had made an error by failing to serve appeal papers to Rancadore's lawyers on time.

At the time Director of Public Prosecutions Alison Saunders acknowledged that, as a result, it was possible Rancadore would never be extradited to Italy.

Federico Bianchi, head of press at the Italian Embassy, said: "When, in March 2014, the District Judge denied the extradition of Mr Rancadore to Italy, the Crown Prosecution Service failed to appeal against his decision in the prescribed terms, for which they issued a formal excuse.

"That is key to the release of Mr Rancadore because that loss of time, which obliged Italy to start the procedures afresh, issuing a new European Arrest Warrant, because that year that was lost gave the possibility for the sentence to expire.

"It gave the possibility to Mr Rancadore's lawyers, who are clever and know the penal code very well, to file an application for the sentence to be declared expired."

Mr Bianchi also denied that the hearing in February had been "useless" because the sentence had not automatically expired until it was confirmed as such by a court in Palermo on March 25.

A CPS spokesman said: "The Italian Ministry of Justice has confirmed that the decision by the Court of Appeal in Palermo is appealable to the Italian Supreme Court.

"It is inaccurate to suggest that a delay due to administrative errors has had a significant bearing on today's outcome.

"Until the EAW was officially withdrawn today, the CPS acted on behalf of the Italian authorities in these extradition proceedings and had received no instructions to the contrary."