Motorway Football
9 April 2015, 18:16 | Updated: 9 April 2015, 18:19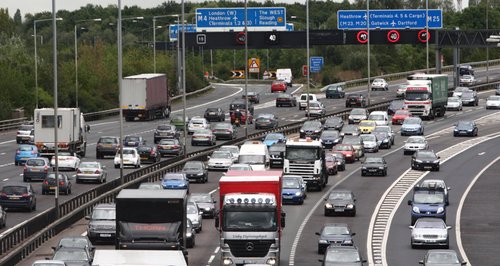 Police have reminded people stuck in traffic queues on motorways to stay in cars after people started playing football on the M25.
It happened during long queues after a crash between junctions 4 and 5 near Otford in Kent on Thursday 9 April 2015.

There were also reports that two teenagers had been stranded on the wrong side of the motorway after the clockwise carriageway reopened.

Kent police said the pair had reportedly walked across the motorway whilst the road was closed, but then were unable to get back when the road was reopened. A patrol had helped them return to their vehicle safely.

Kent police added: "Police are keen to remind people to stay in their vehicles if they are stuck in stationary traffic."

Police are appealing for information into the accident which happened around 12.50pm today.

Witnesses to the collision were asked to contact Kent's Serious Collision Investigation Unit on 01622 798538.

The accident followed another serious incident in Kent when a coach caught fire on an A2 sliproad to the M25 near Dartford in Kent, leading to long delays to traffic.