Nine Elms Sky Pool
19 August 2015, 19:02 | Updated: 20 August 2015, 19:08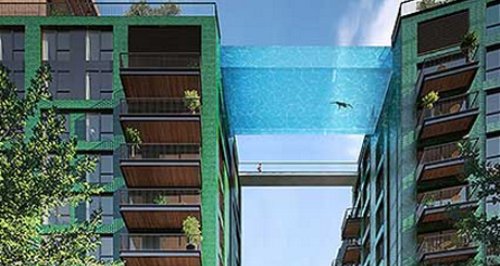 A "sky pool" that will appear to float in the air ten storeys up has been unveiled for a new devlopment in Nine Elms.
The pool will measure around 25m long, and will allow pedestrians passing underneath to watch swimmers above them.
The glass will be around eight inches thick, with the water around four foot deep. Unfortunately for swim fans who aren't planning on buying an apartment there, only residents of the building will be able to use the pool.
Swimmers in the pool will be able to enjoy a view of the Palace of Westminster as they practice their front crawl.
The pool is part of the ongoing devlopment of Nine Elms, which will also see the new American Embassy built on the site.
Embassy Gardens - as the new development will be called - will see the swimming pool constructed as a "bridge" between two apartment blocks.
Prices for the apartments start at around £600,000.