Orbit Slide Approved
28 July 2015, 21:43 | Updated: 28 July 2015, 22:09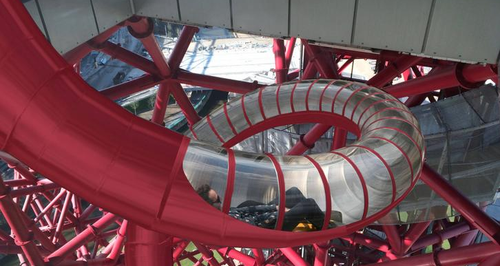 You will soon be able to slide down the Orbit scuplture in London's Olympic Park on the world's longest tunnel slide.
Permission's been given to build a tunnel slide within the structure, which at 114.5m in height is Britain's tallest piece of public art.

The London Legacy Development Corporation said: "As part of our commitment to evolving and developing the ArcelorMittal Orbit, a planning application has been submitted to create a slide from the platforms of the structure down to ground level.

"The enclosed steel tube will wind its way in and out of the lattice work of the ArcelorMittal Orbit, twisting down to the ground as an alternative to the staircase. The addition of a slide would be an exciting and alternative way to descend from the viewing platforms, and will give a very different perspective of Britain's tallest sculpture."

It is hoped that the slide will open in 2016.
The ArcelorMittal Orbit was sold out throughout the Olympic and Paralympic Games, welcoming more than 5,000 visitors a day, with total visitor numbers exceeding 130,000 during the Games.

Ticket holders were able to admire panoramic views of London and the Olympic Park from two viewing platforms at 76 and 80 metres high, as well as enjoying an artistic and sensory experience.