Party Murder Sentencing
27 April 2015, 19:07 | Updated: 27 April 2015, 19:10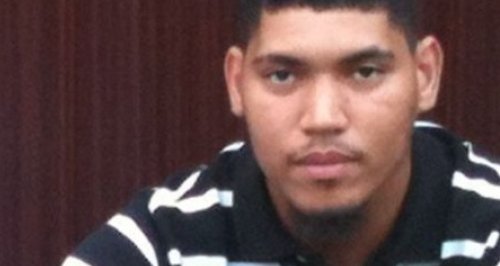 Two men have both been jailed for at least twenty years for murdering a man attacked outside a party in Dagenham.
Ashley Latty, 25, died after he was kicked, punched and stabbed five times outside the Beaver Centre in Dagenham, east London, at 5.30am on May 18 2014.

Nicholas Terrelonge had rounded up the group of men at the ticketed birthday party of a DJ after he recognised Mr Latty as having stolen from him in the past.

Jailing four men from east London for their part in the assault, Judge Stephen Gullick said their victim "never stood a chance when faced by such a group of attackers" and his death had resulted in a "catastrophic loss to those who loved him".

He jailed Terrelonge, 28, and Tyler Burton, 28, for life with a minimum term of 20 years after they were found guilty of murder.

Kestrel Dyer, 25, and Jerome Joseph, 28, who were cleared of murder but found guilty of attempting to cause grievous bodily harm with intent, were jailed for six-and-a-half years and six years respectively.

And Nana Oppong, 34, was jailed for four years after admitting causing grievous bodily harm with intent.

Following the Old Bailey trial, he was found not guilty of murder for a third time - after previously being acquitted of two other murders.

The latest trial had heard how Mr Latty, from Leyton, had been spotted at the ticketed party organised by a DJ called Jerome Rock, whose stage name is DJ Rocky Boss.

After he was set upon, he managed to get away briefly - but the CCTV footage showed the gang moving in and beating him with fists, feet and a bottle.

When onlookers tried to intervene, they too were attacked so the men could carry on the violent onslaught on Mr Latty - whose clothes were torn and covered in blood.

The victim was stabbed several times, but the fatal wound which pierced his heart was inflicted at the start of the attack - which took up to 80 seconds.

Prosecutor Simon Denison QC had told the court: "At least one of them had a knife. One of them picked up a bottle. Together they went up to Ashley Latty and they laid into him.

"Together they stabbed him, and they battered him with punches, kicks, elbow strikes, repeated blows to the head with the bottle - all delivered with real, venomous, hate fuelled force.

"Ashley Latty was stabbed five times, twice in the back, three times in the front of his chest. One of those blows caused the knife to cut into his heart, and although the doctors managed to keep his heart beating until he reached hospital, his life ended where he fell - just outside the entrance door to the party, in front of many horrified onlookers.

"The defendants didn't care who at the party saw them. And they were careless enough to attack him as they did in the line of sight of CCTV cameras that recorded what they did. He didn't stand a chance. It was sudden, sustained, utterly brutal and without mercy."

In evidence at the trial, Oppong denied knowing any of the other defendants and said, when he was told Mr Latty had robbed Terrelonge of a necklace, he was "flattered" to be asked to get involved.

He accepted that he was shown attacking the man on CCTV, but claimed he had no knowledge that a knife was being carried by anyone or that the victim had been badly injured.

In March 2011, Oppong stood trial for the double murder of Eugene Brown and Patrick Ford - both shot outside the Sugar Lounge club where he was celebrating his birthday.

Oppong was alleged to have handed a gun to his co-defendant Michael Smith and to have pointed out the victim Mr Brown.

Smith was convicted of both murders, but the jury was unable to reach any verdicts on Oppong.

In 2012, Oppong faced a re-trial when again the jury was undecided - only convicting Oppong of perverting the course of justice by lying to the police for which he was sentenced to two years in prison.