Pilot Arrested Over 'Knives'
20 April 2015, 18:00 | Updated: 20 April 2015, 19:04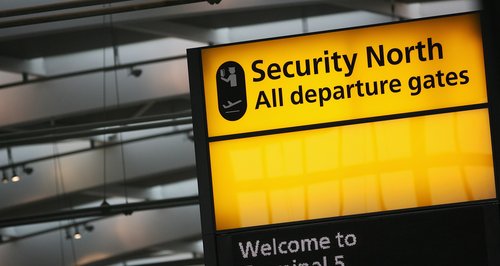 A pilot about to fly more than 250 passengers to Hong Kong has been arrested on suspicion of having knives at Heathrow.
The Cathay Pacific pilot, believed to be 61, was taken into custody around an hour before his Boeing 777 was due to take off on the evening of Saturday 18 April 2015.
He was later released from a local police station on bail, to return there next month.

With no relief crew available, the passengers had to wait until Sunday to get away.

The incident comes less than four weeks after the Germanwings French Alps plane disaster in which cockpit voice recorder evidence suggests the co-pilot deliberately crashed the Airbus A320 with the loss of 150 lives.

On the Heathrow incident, a Met Police spokesman said: "On Saturday at around 9.10pm police at Heathrow Airport were called to a staff search area after a search of a member of flight crew, for a flight later that night, found them in possession of some knives.

"Officers attended and subsequently the member of flight crew, a man, was arrested on suspicion of possession of an offensive weapon in a public place and possession of a knife blade/sharp pointed article in a public place.

"He was taken into custody at a local police station where he was later bailed to return to in mid May pending further inquiries. The CID at Heathrow Airport is investigating."

A Cathay Pacific spokeswoman said: "We will continue to co-operate with the authorities throughout the investigation.

"We apologise for the delay and inconvenience caused to the 262 passengers booked on CX254. The airline assisted passengers with overnight accommodation and alternative flight arrangements. CX254 later departed Heathrow at 2.47pm yesterday and arrived in Hong Kong this morning at 9.31am local time.

"The incident happened on the ground. As the incident is subject to police investigation, we are unable to provide further information."