'Plebgate' Verdict
27 November 2014, 18:19 | Updated: 27 November 2014, 18:26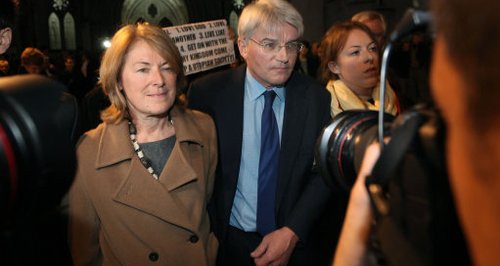 A High Court judge has ruled the MP Andrew Mitchell did call a police officer a 'pleb' during a row at the Downing Street gates.
After a two-week trial, Mr Justice Mitting said he had reached the "firm conclusion" that the 58-year-old MP for Sutton Coldfield used the "politically-toxic" word in a bad-tempered exchange with Pc Toby Rowland in September 2012.

After the ruling, Mr Mitchell, who was in court with his wife Sharon Bennett, said he was "bitterly disappointed" with the outcome.

Mr Mitchell sued News Group Newspapers (NGN) over a story in the Sun which he said meant he was guilty of launching a grossly offensive and arrogant attack on the officers who refused to allow him to cycle through the main vehicle gates, branding them "f****** plebs".

NGN based its report, which it said was substantially true, on the account given in his log by Pc Rowland.

Giving his ruling, Mr Justice Mitting said: "For the reasons given, I am satisfied, at least on the balance of probabilities, that Mr Mitchell did speak the words alleged, or something so close to them as to amount to the same, including the politically-toxic word pleb."

Mr Mitchell said: "This has been a miserable two years. We now need to bring this matter to a close and move on with our lives."

The MP, who resigned as whip a month after the altercation, had denied saying: "Best you learn your f****** place - you don't run this f****** government - you're f****** plebs."

He said he would never call a policeman a pleb "let alone a f****** pleb" - although he agreed he muttered audibly under his breath 'I thought you lot were supposed to f****** help us' - but not at the officer.

The judge, who rejected the claim that there was collusion by the officers on the gate that night, said that Pc Rowland was "not the sort of man who would have had the wit, imagination or inclination to invent on the spur of the moment an account of what a senior politician had said to him in temper".

After the ruling Pc Rowland said he now hoped that a "line can be drawn and everyone can be left in peace".

Steve White, chair of the Police Federation of England and Wales, said: "We are pleased that the judge has ruled in Pc Toby Rowland's favour. Toby's name has been cleared and his integrity restored.

"Toby has conducted himself with dignity and professionalism in relation to this incident and subsequent inquiries and legal cases.

"It is important that this incident is now brought to a close to allow Toby and his family to look to the future."

Pc Rowland said: "The following statement is made in a personal capacity and I do not speak on behalf of the Metropolitan Police Service.

"I would firstly like to thank Mr Justice Mitting for his judgment, my legal team and my family and friends for their unwavering support through what has been the very worst of times for me personally.

"It is with huge regret that what happened at the gates of Downing Street more than two years ago has ended up here.

"It should be pointed out that I and my team tried everything possible to stop the need for court action."

Pc Rowland added: "Even before this trial began, I had already been cleared of any wrongdoing by four extensive and wide-reaching investigations including a criminal one.

"I am delighted that here again my innocence, integrity and reputation as a police officer has been recognised.

"The pain me and my family have been through is indescribable and it is particularly saddening that all this happened because I was following procedure and simply doing my job without fear or favour.

"I also recognise how difficult it must have been for Mr Mitchell's family and I hope now that a line can be drawn and everyone can be left in peace."

In a lengthy ruling, the judge said Mr Mitchell had demanded to be let through and "childish" was an apt description of his insistence.

Mr Mitchell, backed by many references, had said it was not in his character to use such language.

The judge said he did not doubt this, but it did not follow that he could not have spoken the alleged words.

He said the MP was not in a state of mind that evening either to measure his words carefully or remember precisely what they were.

He was satisfied that Mr Mitchell did lose his temper and it was part of common experience of life that loss of temper could lead both to loss of inhibition in speaking and recollection of what was said.

"It follows that his adamant denial of uttering the words alleged is not of itself determinative of the issues."

Only a careful analysis of the evidence of the police officers, particularly Pc Rowland, could resolve that.

Giving his assessment of Pc Rowland "as a man and a witness", he said his conduct and truthfulness was squarely challenged during five hours giving evidence.

He had presented himself as a rather old-fashioned officer, determined to do his duty, and that was to maintain security in Downing Street by enforcing the cycle policy.

He was not an imaginative man and could be inflexible when challenged and defensive to criticism, but he was well suited to the job he had done for more than 20 years.

The judge said there was no legal basis for the officer issuing a warning under the Public Order Act.

He did so because he was taken aback by the words and the manner in which they were spoken, forcibly and with ill-temper.

"It was the repeated use of the word 'f******', not 'plebs', that caused him to give the warning."

There were inconsistencies in his account but they did not demonstrate that it was fabricated.

Pc Rowland did not have the imagination or willingness to invent the words, still less to perform the "pantomime" which their invention would require.

The judge said Pc Rowland thanked Mr Mitchell when he apologised to him and did nothing to encourage or help those who wished to harm the MP.

The judge said that Mr Mitchell had had "a heavy blow" as a result of his findings of fact and needed to meet with his advisers to think about the consequences.

He directed that he should have 14 days to tender an undertaking not to repeat the claim that Pc Rowland had fabricated his allegations and for both sides to discuss and agree if possible an order for the further progress of the actions.

If another hearing was necessary, it would take place in the new year.

Asking for damages to be assessed, Pc Rowland's counsel, Desmond Browne QC, said that the judge had decided the critical issue which was the sole issue - whether the word "pleb" was used - which was determinative of the whole litigation.

The costs of the entire litigation were unofficially estimated at £3 million by court sources.

Today, Mr Mitchell was ordered to pay interim costs of £300,000 - to be shared between the Police Federation, which funded Pc Rowland, and NGN - by January 3.

But, the total bill he faces has yet to be determined.

Stig Abell, managing editor of The Sun, said: "Today represents vindication for The Sun and its journalists. We have always stood by our story and continue to do so. We are delighted that the judge has ruled that what we reported about events on Downing Street in the evening in question was the truth and accurate.

"There has been a lot of speculation and comment about Mr Mitchell's outburst, and criticism of our newspaper. The judgment today lays all that to rest. Our article broke this important public interest story, and it has been independently and conclusively confirmed. The Sun can be proud of its journalism today.

"More importantly, today marks a victory for all journalism. We now live in a world where the task of uncovering what goes on in our institutions has never been more difficult. It is the job of journalists to shine light into the dark corners of public and political life. There are many in the establishment who do not want us to do that.

"A meek press does not serve the public interest, only the interests of our political classes. Today, this verdict has endorsed the value of robust and irreverent journalism, and we are delighted at the result."