Polar Bear On The Tube
27 January 2015, 18:50 | Updated: 27 January 2015, 19:05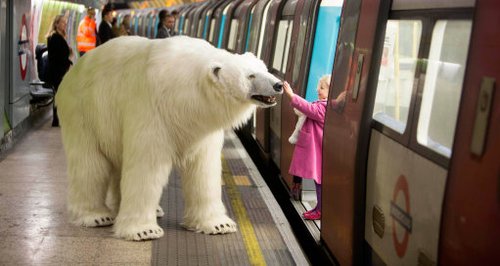 An eight-foot animatronic polar bear has been roaming London.
The creature was spotted in Leicester Square, on Hampstead Heath, on the London Underground and on the South Bank on Tuesday 27 January 2015.

The animated animal was constructed by 19 prop specialists, who spent two months designing and building the replica bear.

Two puppeteers from the West End show War Horse controlled the movements of the bear, which was built to promote Sky Atlantic's new "Arctic-noir" series Fortitude.

The thriller, set in a fictional town with 3,000 polar bears for every 713 residents, stars Stanley Tucci, Michael Gambon, Sofie Grabol and Christopher Eccleston and launches on Sky Atlantic on Thursday 29 January 2015.

Sky Atlantic director Zai Bennett said: "We wanted to bring a realistic polar bear to the streets of London to give people an up-close experience of what it must be like to come face-to-face with one of the biggest, but uncredited stars of our new show."