Prison 'Mole' Jailed
2 June 2015, 19:06 | Updated: 2 June 2015, 19:11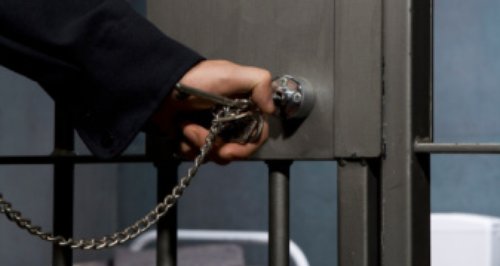 A prison officer at top-security Belmarsh jail has been jailed for 20 months after being found guilty of being the paid mole of a reporter working at the Daily Mirror and News of the World.
Following an Old Bailey trial, Robert Norman, 54, was convicted of committing misconduct in a public office while working at HMP Belmarsh, south London, which was home to a number of high-profile prisoners.

The court heard he was paid more than £10,000 for 40 tips to reporter Stephen Moyes between April 30 2006, and May 1 2011.

In his defence, Norman, of Milton Street, Swanscombe, denied wrongdoing and told jurors he wanted to highlight problems at the prison in the public interest.

He claimed the case of a Roman Catholic chaplain having affairs with inmates was being "swept under the carpet" by authorities before he told Mr Moyes about it.

But jailing him, the Common Serjeant of London, Richard Marks QC said that was not his sole motivation.

He told him he had decided on an immediate custodial sentence because of the "scope and scale of the offending", but had reduced the term from 30 months to 20 after hearing that he is the sole carer for his sick wife.

On the personal mitigation, the judge said: "I recognised that the position you find yourself in is disastrous for you, not least your livelihood and good character. I am very mindful of the fact you have a sick wife and the unfortunate condition she is in."

He went on: "I am quite prepared to accept you did have genuine concerns about the manner in which the prison was run. In particular having regard to budgetary cuts, and that in part was a motivating factor in acting as you did.

"But that does not in my judgment tell the whole story. On a number of occasions you disclosed information where the public interest had nothing at all to do with what you were imparting. In my judgment there were other factors at play here. The first was indubitably the money.

"Secondly, it is apparent from the evidence that you had developed an intense dislike for the governor, who you considered inept at her job.

"If public interest had been your sole concern in all this, as you claimed it was, rather than going to the press you could and should have sought to have matters addressed through official channels - as the union representative you knew that and would have been in a position to do it."

Norman thanked the judge as he was led away from the dock to begin his sentence.

During the trial, prosecutor Julian Christopher QC said Norman was an "extremely experienced" prison officer, having been appointed in 1992.

He was also a member of the Prison Officers' Association, acting as union representative to colleagues.

Norman first phoned the Daily Mirror in 2006 and gave Mr Moyes a story about staff cuts at the prison, for which he was paid £400.

The exclusive story described Belmarsh as a "terror prison" and ran alongside a photograph of one of its most notorious prisoners, "hate preacher" Abu Hamza, the court heard.

As the relationship developed, it became a "two-way affair" and Norman carried on dealing with Mr Moyes when the journalist moved to the News of the World.

Mr Christopher said: "Sometimes Robert Norman would approach Stephen Moyes with something he thought would be of interest, at other times Stephen Moyes would approach Robert Norman for inside information about a topic in which he was interested, or for confirmation which he would not be able to get for free from the official channels at the Ministry of Justice press office.

"Effectively, Robert Norman became the journalist's paid mole within HMP Belmarsh."

The court heard that when Norman was arrested in 2013 he maintained he had acted in the public interest as a whistleblower.

But Mr Christopher said: "Whilst there may well be quite a number of stories which would be said to varying degrees to be concerned with issues in the public interest, the prosecution alleges it is plain that this was not the behaviour of a conscience-driven whistleblower, moved by the desire to see change and accountability where otherwise there would be none."

Cheques for the stories were made out to Norman's son Daniel and the money was then transferred into Norman's account, showing he was "worried about the trouble he would get into" if found out, Mr Christopher said.

The jury in the trial was not told that charges against Mr Moyes were dropped following a root-and-branch review of Operation Elveden cases by the Crown Prosecution Service.