Rail 'Lucky Escape'
8 April 2015, 19:05 | Updated: 8 April 2015, 19:10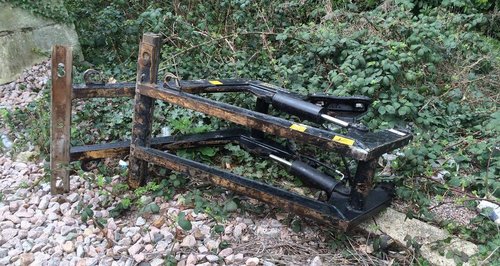 Emergency crews say a disaster has been narrowly averted after part of a lorry crashed onto rail tracks in Dulwich.
The mechanical grab section of a builders' lorry (pictured) broke off and landed on the track after the vehicle hit a rail bridge on Wednesday 8 April 2015.

A train operated by the Southern company stopped short of the grab which then became welded to the track.

London Fire Brigade posted pictures on Twitter showing firefighters using cradles to transfer passengers from the train to another train alongside.

The incident happened at Dulwich in south London. The transferred passengers, who were taken to Tulse Hill station, had been on a West Croydon to London Bridge service.

London Fire Brigade tweeted: "89 passengers have safely been transferred onto another train after lorry crashes into railway bridge in Dulwich."

There were delays of up to 50 minutes on services between London Bridge and Tulse Hill following the lunchtime incident.

London Fire Brigade spokesman Richard Knighton said: "The lorry has smashed into the bridge and the 'grabber' on top has gone on to the track.

"The train driver has quickly seen it and jumped on the emergency brakes which has narrowly escaped a potential disaster. The track has also been damaged so there was also the possibility of a derailing.

"Thankfully no one was injured and all 89 passengers were safely transferred on to another train."

The brigade was called at 11.25am and the incident was over by 1.24pm. Fire crews from West Norwood and Lewisham fire stations attended the scene.

A spokesman for the Southern train company said the accident was on Village Way in North Dulwich and the lorry had hit the bridge with its crane attachment extended.

He went on: "The impact was such that part of the bridge parapet and part of the crane itself fell on to the railway, causing a short circuit and stopping a nearby Southern train. The train was travelling slowly at the time and stopped short of the incident."

For a time services were suspended between London Bridge and Beckenham Junction and between London Bridge and West Croydon.

Trains are now running with speed restrictions. An engineer was at the site inspecting the bridge further.

Southern added: "Should any structural defect be found, then train services will have to be suspended again for repairs to be made."