Record Number Of Terror Arrests
14 May 2015, 19:17 | Updated: 14 May 2015, 19:20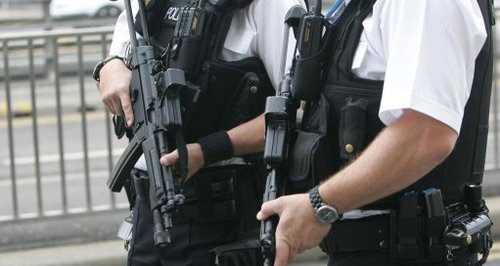 Scotland Yard have revealed a record number of terror arrests were made in the UK last year, averaging nearly one a day.
They have also revealed more than 700 British extremists have travelled to Syria and around half have returned to the UK.

Scotland Yard said a "significant proportion" of those who made the journey to the war-torn country were intent on joining Islamic State - also known as ISIL - and hundreds have come back to Britain.

Senior officers have warned rising numbers of women and children are being drawn into extremism.

Assistant Commissioner Mark Rowley, national lead for counter-terrorism, said police and security services were working on hundreds of active investigations.

"ISIL and other terrorist groups are trying to direct attacks in the UK, encouraging British citizens to travel to Syria to fight and train, and are seeking, through propaganda, to provoke individuals in the UK to carry out violent attacks here," he said.

"There is no doubt of the horrific nature of the offences being committed overseas. The influence of those who wish to bring similar violence to the streets of the UK has been an increasing threat here."

Mr Rowley said the number of individuals who are "of significant concern" to authorities has now passed 700.

"They are not aid workers or visiting relatives - they are people of real concern that they are getting involved in fighting or are supportive of it," he said. "They are potential terrorist suspects."

He said there was a "fairly even balance" between the numbers still in Syria and those who have returned.

There were a record 338 arrests for suspected terrorism offences in 2014/15 - an increase of a third compared to the 254 detained in the previous year. Just under half (46%) of the arrests were related to Syria.

A total of 89 people were convicted of terror-related offences in 2014/15 while 114 are awaiting trial.

It was also revealed that more than one in 10 (11%) of those arrested on suspicion of terror-related crimes in 2014/15 were female while 17% were under 20.

Mr Rowley drew parallels between gang crime and the growing trend for youngsters to be drawn into terrorist activities.

"The make-up of terrorism has changed. You would not have seen that five or 10 years ago," he said.

"That mix of families, women, teenagers getting involved in terrorism is something that comes out.

"It's not going to be a one-off to see people in their teenage years coming into this. It replicates a bit what we see in gang crime - people with troubled histories get drawn into serious crime and can get drawn into this."

The number of terror suspects arrested in each quarter has roughly doubled in the last six years. Arrest totals in the last three years were 54% higher than the previous three.

Mr Rowley said the trend appeared to coincide with events in the Middle East including the Syria conflict and emergence of Islamic State, although he said these are not "exact triggers".

He described the number of arrests by counter-terrorism units across the country in the last year as "quite dramatic", adding: "You are getting towards now an arrest a day."

Around two-fifths of the arrests are for offences such as glorifying terrorism or preparation for terrorist acts, while others relate to suspects who are "looking towards terrorism" through activities such as fundraising.

The counter-terrorist police network is "working at a fair pace" to "keep up with the change in work", Mr Rowley said, confirming that several plots have been foiled over the last year.

Plans to inflict atrocities in Britain "vary massively" in terms of conspirators' capabilities, with the most serious often directed or inspired from abroad.

"At one end of the spectrum you've got well-organised plots, potentially choreographed and even directed from overseas," Mr Rowley said.

"At the other end, you've got people who are inspired by some of the propaganda and messages and other communications coming out from Isis but largely acting of their own volition.

"Those will often be low-tech in methodology - very basic in terms of bomb-making, using knives or plans to use cars to run people over.

"The challenge for us is that range from the sophisticated, organised, directed through to the volatile lone actor. The reach of this problem into communities is different to what we've had before."