Revenge Killing Sentence
22 April 2015, 18:42 | Updated: 22 April 2015, 18:47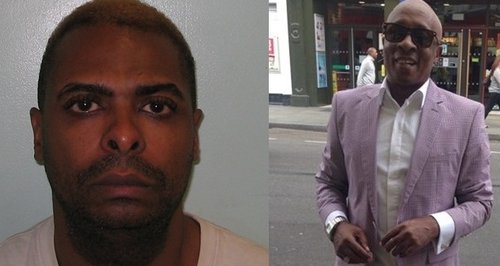 A man who stabbed a grandfather to death in a street in Notting Hill in revenge for the death of his sister years earlier has been jailed for at least 21 years.
Tayo Wesley, 39, (left) stabbed Anthony Charlery, 59, (right) with a decorator's knife in a bar in London's busy Portobello Road in August 2014.

The Met Police said Wesley "harboured a serious grudge" against Charlery for many years because he blamed him for the death of his sister Bolajai in 1999.

Mr Charlery stood trial for Bolajai's manslaughter in 2002 accused of chasing her to a third floor window at an address in Earls Court, west London, causing her to jump.

But he was acquitted by an Old Bailey jury, sparking a 15-year feud between the two men.

A year later Wesley attacked Mr Charlery with an iron bar outside his home, giving him a serious head injury.

Wesley's deadly vendetta came to a bloody end when he saw Mr Charlery at Mau Mau bar in Notting Hill on August 29 and plunged a knife into his stomach.

Mr Charlery tried to flee the bar by running across the road, but Wesley chased him and stabbed him again in the neck, severing a main artery.

He collapsed in the road just after midnight bleeding heavily and paramedics were unable to save him.

Wesley fled to his girlfriend's nearby to change and then to a club in Shoreditch in east London where he was caught on CCTV demonstrating what he had just done.

He admitted manslaughter, but denied murder on the grounds of loss of control. But a jury at London's
Kingston Crown Court found him guilty of murder following a trial.

Investigating officer Detective Inspector Sarah McConnell, of the Homicide and Major Crime Command, said: "Wesley had harboured a serious grudge against Anthony Charlery for many years, believing him responsible for the death of his sister.

"When they both happened to be at the same bar on the same night in August, Wesley reacted in anger and took the opportunity to seek his revenge.

"He claimed he did not mean to kill Anthony, but had lost control when approached by him due to their shared history. However, he had gone out that night armed with a weapon which he did not hesitate to use, chasing Anthony and stabbing him twice."

Wesley was arrested after handing himself in at Wandsworth police station. In police interview, he admitted the attack but claimed he didn't mean to do it.