Road Transformation Programme
4 March 2014, 11:32 | Updated: 4 March 2014, 11:53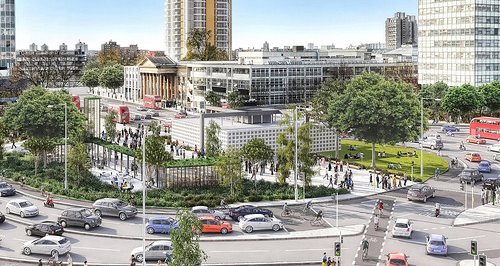 Dozens of areas of London are set to be transformed as part of a £4bn programme to improve the road and street network.
Among the 50 areas of London that will get an overhaul are the Elephant and Castle junction and the IMAX roundabout at Waterloo.
The plans for Elephant and Castle (pictured) will see 5,000 new homes and 4,000 jobs created. They will also improve facilities for road users and local people. Dedicated cycling facilities will also be created, with public consultation starting later this month and work beginning early next year.
The IMAX roundabout at Waterloo will also be redeveloped, creating better interchange facilities at Waterloo station as well as improved facilities for cyclists.
The Mayor of London, Boris Johnson, said: "Smarter design of our roads and public spaces, exemplified by our radical plans for Elephant & Castle, will play a key role in ensuring that London remains the best big city to live, work and invest. We've been hard at work putting the bold and imaginative blueprint of the Road's Task Force into practice and we're now seeing the fruits of that labour at key locations across the capital."
TfL's Managing Director of Surface Transport, Leon Daniels, said: "The Roads Task Force was set up to deliver world-class streets and roads fit for the future to support London's population which is set to grow to 10 million people by 2031. Balancing the needs of all users, we will be investing millions into transforming London's road network in the coming years, helping to keep the capital moving while creating new, inviting places to work, shop and relax."
Get more details on the regeneration projects