Royal New Year
19 February 2015, 14:03 | Updated: 19 February 2015, 19:06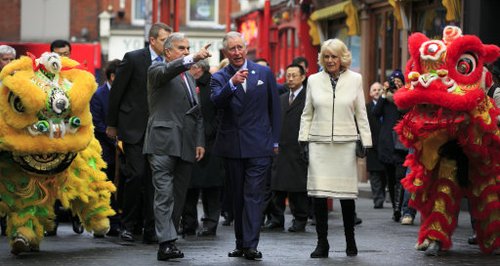 Charles and Camilla have celebrated the Chinese New Year with a visit to London's Chinatown.
The couple arrived to a fanfare of colour, drums and dancing dragons to mark the first day of the year of the goat.

Charles grinned as his wife attempted to make dim sum in the shape of money bags, believed to bring you luck and prosperity, before watching a demonstration on using chop sticks.

Camilla was a little more reluctant to try the trickier art of Chinese calligraphy but was praised for her "impressive" first try at the character representing "sky".

Before officially opening the newly refurbished China Exchange, a cultural and business centre in the heart of China Town, Charles attempted a few words of Mandarin but accepted he might need "a tutorial afterwards".

He also joked about the friendly dispute over whether it is the year of the goat or the sheep - a confusion which has arisen over the translation of the word "yang" in to English.

Geoffrey Leong, owner of Dumplings' Legend visited by the royal couple, said: "The first day of the New Year is the best day to take part in Chinese traditions, it means it will certainly be a lucky and happy year for (Charles and Camilla)."

He added: "We spoke about all the different animals and I told Prince Charles that I believed he was the year of the rat and Camilla was the year of the pig - I wasn't sure if he already knew that.

"Everyone in Chinatown is delighted that they have come here to celebrate with us. We are a big part of the London community so it's great to see them taking pleasure in these traditions."

Christine Yok Wan Yau, vice president of the London China Town Chinese Association, said of Camilla's calligraphy attempt: "It's not bad actually, I am impressed for a first time - she has a very steady hand."

Two of the Prince's charities - the Foundation for Building Community and the Charities Foundation, China, were key in supporting and developing the concept for the China Exchange.

In an address to members of the community and benefactors of the centre, he said he hoped the building "will be a platform for the exchange of ideas between the East and the West".

He added the couple were "delighted to join you in celebrating the Chinese New Year".