Royal Visits
27 March 2015, 18:16 | Updated: 27 March 2015, 19:16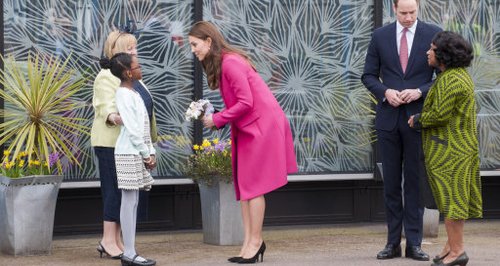 The Duchess of Cambridge has been given flowers by the niece of murdered teenager Stephen Lawrence during a visit to a youth centre in Deptford named after him.
The Duchess is around eight months pregnant and her trip with the Duke to the Stephen Lawrence Centre and to projects run by the charity XLP (eXceL Project) were her last public events before the birth.
The next time she will be seen officially in public is likely to be on the steps of the Lindo Wing, the private maternity wing of London's St Mary's Hospital, with her new baby.

After watching musical performances in a south London church, by young people who have turned their lives around thanks to XLP's work with disadvantaged children and teenagers, William and Kate went for a brief walkabout.

A small crowd had gathered outside Christ Church in Gipsy Hill and one couple, Antonia Kain, 45, and Paul Reardon, 50, from nearby West Norwood, chatted to the royal couple for a few moments.

Mr Reardon said: "We asked her when it's due and she said April - end of April.

"William said he couldn't wait for the baby to be born - he said he wanted it now, he couldn't wait another minute.''

The latest addition to the Duke's family was also on his mind when he chatted to Helen Scholes, 46. She said: "William said number one is a life changer and number two is a game changer.''

Inside the church William and Kate, who wore a pink fuchsia Burberry coat, had watched acts who had all successfully completed an arts programme run by XLP.

Sitting in the front row of Christ Church in Gipsy Hill the royal couple were entertained by successive acts and groups.

Patrick Regan, founder of the charity which began its work in 1998, introduced the Cambridges when they first took their seats, and he joked with the invited audience, telling them to relax and said: "Turn to the person next to you and tell them they look fantastic," which William did, looking at his wife.

Among the acts was Epix, a collection of musicians who had at their heart Steven Ekpenyong, 23, an amateur footballer who was helped by the charity to break free of his gang lifestyle.

He said: "I was getting involved in criminal activity, anything that paid and put food on the table at the end of the day.''

The 23-year-old described how the charity saved him from getting involved in a serious crime.

He added: "Without the involvement of XLP at 16 I had the option of getting involved in a robbery - friends ended up having seven years in jail - or changing my life around.''

The charity were working in his school and Mr Ekpenyong said he and some friends simply asked to visit their staff.

XLP's staff and volunteers work in communities helping to meet the social, educational and behavioural needs of young people - 1,800 a week, with some on the verge of exclusion from school.

Their efforts help troubled teenagers to stay in the classroom and give them the opportunity to reassess their lives.

The moment when he realised he could "strive to be better'' came after he appeared in an MTV show and later, with a large group of friends, saw himself on the music channel.

Later crowds cheered as the Duke and Duchess arrived on the Hazel Grove estate in nearby Sydenham to visit XLP's bus project, and mobile recording studio - an old police riot van that had been reconditioned by the MTV show Pimp My Ride.

Ethan Bernard, 33, who runs the studio, said that the visit had allowed him to tell the Duke and Duchess "my story, where I'm from and what I'm about''.

He told reporters: "Unfortunately a friend of mine was murdered 13 years ago and it was at that point that my life took a turn.

"I wanted to go back into the communities where I am from and support young people who don't have a role model like I didn't have a role model. XLP has really allowed me to spread my wings.

"Having the chance to give young people something like this which I didn't have and see some changes in their lives is amazing. I love this.''

Tex Tuwizana, a 16-year-old student from Catford, south-east London, said that after he was stabbed the studio saved his life.

He said that Kate had encouraged William to get on the studio's control deck but they did not have time for it.

"Meeting them was an amazing experience,'' he said, "Not a lot of people from our area get the opportunity to do something like this."

The royal couple had begun their day by visiting the Stephen Lawrence Centre in Deptford, south east London, which helps young people break into the professions.

They were shown around the centre, named after Stephen, who was fatally stabbed by a group of white youths near a bus stop in Eltham, south-east London in April 1993, by his mother Baroness Doreen Lawrence.