Schoolgirls 'Make Contact'
28 May 2015, 18:12 | Updated: 28 May 2015, 18:15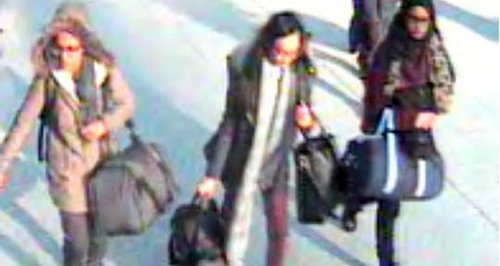 Three schoolgirls from Bethnal Green who're believed to have joined Islamic State in Syria have made contact with their families.
Their relatives' lawyer says they're not planning on returning in the near future.
It's been claimed the schoolgirls are being trained for special missions.

A woman claims that she met, looked after and taught the east London schoolgirls - Shamima Begum, Amira Abase, both 15 and Kadiza Sultana, 16 - how to behave when they arrived in February.

Speaking in broken English from the Turkey/Syria border, she said: "These girls, because they are very young, they want four or three months to start."

The claim came as a new report suggested that "terror twins" Zahra and Salma Halane, 16, from Manchester, "have taken on influential roles" within the group of British women who have travelled to the war zone, including urging others to join them.

It is suggested the 22-year-old woman who knew about the London girls, who calls herself Um Asmah, recently defected from Islamic State where she was a senior female commander.

She told Sky News: "They was very happy to come to Syria in Ar-Raqqa and meet the most people of Daesh (Islamic State).

"I think it is interesting to them."

She is not optimistic about the fate of the teenagers, believing they will not return home to Britain and might die in Syria or Iraq.

As a defector, the woman says she is now constantly afraid and also scared about what will happen to her family in Syria.

Police launched an international manhunt for the three Bethnal Green Academy pupils after they fled Britain from Gatwick on February 17.

Members of their families, who appeared before a committee of MPs in March, claimed they were normal schoolgirls who watched shows including Keeping Up With The Kardashians.

It is understood they were following another 15-year-old girl who travelled there in December.

Concerns about how Turkish authorities dealt with the disappearances were later raised by their families.

The Metropolitan Police believe around 600 Britons have travelled to Syria and Iraq since the conflict began, and around half are believed to have returned to the UK.

A new report released today by the Institute for Strategic Dialogue (ISD) says that the Halane sisters, who arrived in Syria in July, married IS fighters and were widowed since arriving in the country via Turkey and have been further radicalised by the experience.

In Till Martyrdom Do Us Part: Gender And The ISIS Phenomenon, authors Erin Marie Saltman and Melanie Smith wrote that the twins "form a particularly vocal sub-cluster of the British female migrant contingent".

They added: "Throughout many months of monitoring, it is apparent that the Halane twins have taken on influential roles within the cluster of British women who have journeyed to ISIS territory.

"However, Zahra and Salma occupy distinct roles within this community. While both encourage other 'sisters' to join them and actively revel in terrorist attacks on Western soil, Salma appears to contemplate upon the evolution of her life in Manchester to her life in the ISIS as a continuum, whereas Zahra appears to have separated these two episodes entirely - rarely making mention of personal details or referencing family.

"Through the (albeit murky) lens of social media, it is obvious that the Halane twins have radicalised further during their time in ISIS territory, particularly since the death of their husbands."