Scissors Attacker Jailed
14 July 2015, 19:25 | Updated: 14 July 2015, 19:31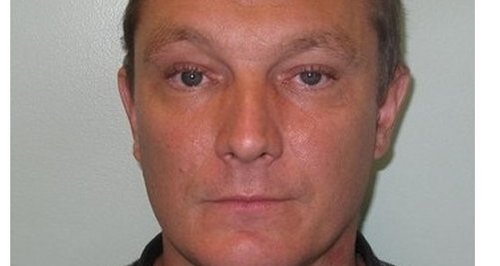 A man has been jailed for stabbing his ex-partner more than 20 times with a pair of scissors in Sidcup while her three children were asleep upstairs.
Connor Fox, 38, (pictured) who doesn't have a fixed address, has been sentenced to 20 years for attempted murder over the attack last year.
He will also have to serve a further five years on extended licence after pleading guilty. He will only be eligible for parole after serving a minimum two-thirds of his sentence.
Police were called at 11.30pm on 24 April 2014 to Cleve Road, Sidcup, to reports of a woman having been stabbed.
Officers found a 24-year-old woman suffering from multiple stab wounds.
The victim had been at home with her partner when Fox had forced his way into their home by kicking open the kitchen door.
As her three young children slept upstairs, Fox attacked the victim with a pair of scissors, stabbing her over 20 times in her eyes, face, throat, shoulder, arms and legs. Her partner attempted to intervene but was attacked by Fox, receiving injuries to his head and neck.
Fox ran off into the back garden, discarding the scissors he had used in the attack in the rear of the garden before climbing into neighbouring gardens and walking off.
On 26 April, the London Fire Brigade attended a shed fire at a group of allotments a short distance from Cleve Road. The fire was put out and the police were called. While there, an allotment user found a noose hanging from a Gazebo near an allotment patch.
A search of the area was undertaken and Fox was found hiding in a shed with a pair of scissors in his hand. He was detained and arrested on suspicion of attempted murder.
Fox pleaded guilty to attempted murder at Inner London Crown Court on 16 February 2015.
A major artery in the victim's neck was severed, causing her to suffer a major stroke that has left her paralysed down one side and wheelchair-bound.
Detective Constable Jonathan Potter of the MPS Homicide and Major Crime Command, said: "This was one of the most violent and heinous crimes I have witnessed in my service, especially to a vulnerable deaf woman who thought she was safe in her own home.
"The attack was particularly sickening as the defendant intentionally tried to blind the already deaf victim during the incident. The victim remained courageous and determined to see justice served through to the bitter end, and was very happy with the sentencing that was passed."
The victim said: "I'm very pleased with the sentencing overall and with the judge's decision. My children, my family and I can now start a new chapter and move on from the nightmare that started 18 months ago. Justice has now been served. We thank everyone who have supported us along the way.