Smiling Baby Rays
11 August 2015, 10:58 | Updated: 11 August 2015, 11:32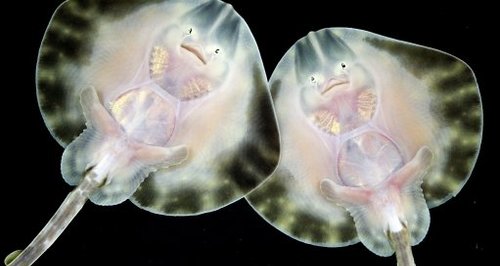 A pair of endangered baby British rays have been welcomed at the Sea Life London Aquarium.
The Rays were born last month at the London Aquarium as part of their pioneering breeding and tracking programme.

Senior Aquarist Matt Howarth said, "These beautiful animals, which are native to British waters, are endangered in the wild due to over fishing and damaging fishing practices so it is hugely important for us to breed them and track the population. Visitors love these creatures, children like seeing their undersides which appear to be 'smiling', so I'm sure the new arrivals will be very popular."

SEA LIFE London is part of a European breeding program for this endangered species which means that all of their undulate rays are listed in a studbook and are microchipped.

The studbook is an accurate record of all the rays in the programme and importantly includes information such as who is related to who.

The microchips allow them to easily identify individual rays to ensure that they are only housed along with genetically suitable mates.