Station Switch 'Unavoidable'
14 January 2015, 19:04 | Updated: 14 January 2015, 19:11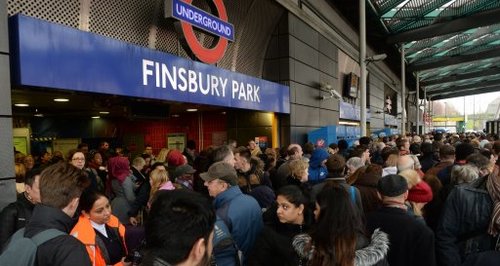 Network Rail bosses have told MPs they had no option but to send passengers to Finsbury Park when Christmas engineering work at King's Cross overran.
Finsbury Park station in north London became so overcrowded on Saturday 27 December 2014 that passengers could not alight from trains and the station had to shut for a time.

Network Rail network operations managing director Robin Gisby told MPs on Wednesday 14 January 2015: "It was the right decision to use Finsbury Park (as the terminus) and I would endorse that decision again."

Appearing before the House of Commons Transport Committee, Mr Gisby said: "Finsbury Park was entirely unsuitable compared with King's Cross but there was nothing else we could do.

"Any other decision would have caused even more discomfort for passengers."

Mr Gisby was appearing alongside NR chief executive Mark Carne following the overruns that also affected Paddington station in London on December 27.

The overruns meant the closure of King's Cross station in London for the whole of Saturday December 27, with Paddington station closed for a time and nearby Finsbury Park station having to shut for a period due to the overcrowding.

A Network Rail report published earlier this week revealed poor planning, equipment failures and communication breakdowns all contributed to the overruns.

Physical work near Paddington was completed on time but safety validation work that should have taken two hours took 10 hours, the report said.

When work near King's Cross overran, the trains were switched to start and finish at Finsbury Park, but "not enough was done" to manage passenger flow at Finsbury Park.

Mr Carne told MPs that he, again, "unreservedly apologised" to passengers for the disruption on December 27. He said he thought the overrun at King's Cross could have been declared earlier and communication about the use of platforms at Finsbury Park could have been improved.

Mr Carne said: "It is very clear that there are a lot of lessons to be learnt from this."

In the week after the overruns, Mr Carne announced that he would not be taking his annual performance-related bonus for 2014/15. The bonus could have been as much as £135,000.

Asked about the bonus at today's hearing, Mr Carne said he was the person responsible overall for the Christmas engineering programme but added that he considered that bonuses were earned for a performance over a whole year.

He said: "I know that the performances of the railway today are not meeting the public's expectations on a number of fronts.

"We are not delivering."

Mr Carne was in Cornwall for Christmas and said he was informed of the King's Cross overrun at 2pm on Boxing Days and kept in touch by telephone from then on.

Another inquiry into the overruns has been announced. This will be overseen by rail industry body the Rail Delivery Group. Meanwhile, the Office of Rail Regulation (ORR) has already launched its own inquiry.

One of the things the rail industry inquiry will look at is the possibility of moving major engineering projects away from the Christmas period.

Mr Carne said today that Christmas was a time when many passengers were young or elderly and many carried suitcases.

He went on: "If you decide not to do it at Christmas, you still have to do the work and there will be disruption. We may well end up doing it at Christmas because that is the time when there is the lowest impact on passengers and the economy."

Office of Rail Regulation (ORR) chief executive Richard Price also appeared before the Transport Committee today accompanied by ORR's railway markets and economics director Joanna Whittington.

Mr Price said that passengers had had a "dreadful experience" and had been "let down", with things going "badly wrong".

He told the committee: "I live in the area of Finsbury Park and went down there. People were queuing out in the cold. There were no station staff outside. Passengers were not getting any information.

"I was very surprised (about the lack of staff). People were not clear about which queue they were joining."

MPs were told that it was hoped to publish the ORR report into the overruns by the end of February. Mr Price said that his experiences at Finsbury Park would be taken into account when compiling the report.

In the past NR has been fined as much as £14 million by the ORR for a 2007/08 festive engineering overrun.

Ms Whittington told MPs that NR cannot be fined more than 10% of the company's turnover, but she would not speculate on if there would be a fine this time, or how much it could be.