Stripy House Owner Loses
23 July 2015, 19:17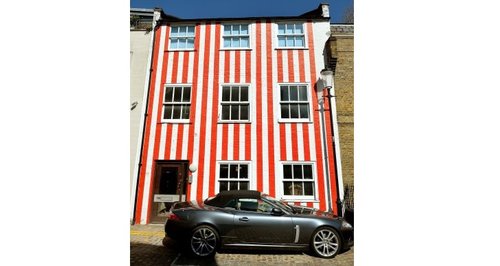 A woman who painted red and white candy stripes on her multi-million pound home in Kensington when her neighbours blocked her application to knock it down has lost her latest planning battle.
Zipporah Lisle-Mainwaring, 71, asked a High Court judge to quash a new planning policy that blocked her plans for a two-storey basement.

Ms Lisle-Mainwaring was accused of painting on the candy stripes to "get her own back" on neighbours who objected to her plans to demolish her property in Kensington, west London, and replace it with a new house and the controversial mega basement.

She joined forces with construction company Force Foundations (Basement Force) Ltd to challenge the legality of Kensington and Chelsea Council's current policy of severely restricting the building of basements of more than one storey in depth.

Paul Brown QC told Mrs Justice Lang in London earlier this month that the policy was "fundamentally flawed".

He said the decision to adopt it in January this year had been taken without due regard to relevant planning issues and without consideration being given to whether there was "a reasonable alternative".

The policy was introduced because of growing concern over the increasing number of applications for "subterranean developments" in the area and the misery neighbours suffered from noise, vibration, dust and construction traffic.

Under the strict new guidelines basements are still permitted but with limits on their scale.

Today, the judge dismissed the case, saying that the authority's decision was a reasonable one, reached after taking in to account the relevant considerations, and was adequately explained and justified.