Tower Bridge Stunt
24 July 2015, 17:43 | Updated: 24 July 2015, 17:46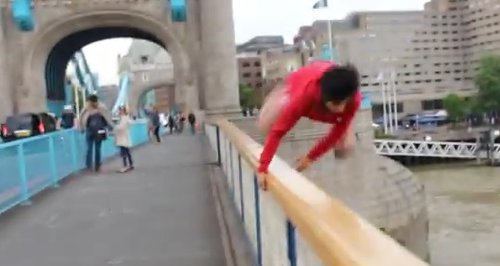 A teenager who almost drowned after jumping off Tower Bridge for a social media stunt has admitted what he did was "stupid".
Shah Faisal Shinwari, who has more than 27,000 subscribers to his Carnage YouTube channel, was rescued by the Royal National Lifeboat Institution after jumping off the 65-metre bridge in to the River Thames.

Shinwari, who describes himself as an "Actor and YouTuber" on his Twitter account, uploaded a video of the stunt on Thursday afternoon.

The video shows the 17-year-old being encouraged to jump by his friend before hitting the water, and initially appearing stunned. Shinwari was then dragged down-river by the strong current before managing to drag himself to the bank, where RNLI rescuers pumped the water out of his lungs and he was taken to hospital.
The vlogger criticised his own actions, writing on Twitter: "This was my stupidest video idea to date and it will never happen again, I promise."

Shinwari explains the stunt was a dare from one of his subscribers, and in the video description wrote a list of "things that went wrong". These included "swallowing lots of dirty water", what he called "internal drowning", and having to fight the strong current.

Tony Wafer, RNLI community safety manager, criticised the teenager's actions as "disappointing" and warned of the dangers of such stunts.

He said: "We're glad that this young man regrets his actions, however we would strongly discourage anyone from doing anything like this. Jumping into the Thames from a bridge is extremely dangerous - the shock of cold water make it very difficult to swim and strong currents can rapidly sweep people away."

Shinwari has since thanked the RNLI and promised to raise funds for the charity.