Tributes To Seven Year Old Girl
A seven-year-old girl has died after falling from an 11th-floor balcony in Finsbury.
The youngster, named in reports as Nawaal Sayid, is said to have plunged more than 100ft (30m).
Scotland Yard said officers were called to Emberton Court in Tompion Street, Clerkenwell, central London, at 6.50pm on Tuesday evening (25/06/13) following reports that a child had fallen from an 11th-floor balcony.
A spokesman said:
"London Ambulance Service attended and treated a seven-year-old girl at the scene. She was taken by ambulance to an east London hospital where she later died.
"The death is being treated as unexplained at this time."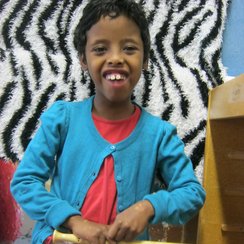 Detectives from Islington Borough are investigating.
Dr Penny Barratt, headteacher at The Bridge School in King's Cross, where Nawaal was a pupil, sent a letter to parents saying:
"Nawaal Sayid, one of our pupils at the primary site, had a tragic accident and subsequently died.
"Nawaal was an extremely happy, bubbly, fun-loving girl who really enjoyed all the activities she got involved in at school. She brought a smile to the faces of all who came into contact with her. We will really miss her."