Unexploded WW2 bomb
10 August 2015, 19:07 | Updated: 10 August 2015, 19:11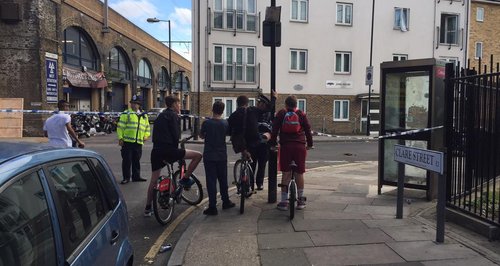 More than a hundred people were forced to leave their homes in east London after an unexploded WW2 bomb was found by builders.
Bomb disposal experts were called to Temple Street, Bethnal Green, after the unexploded device was found by contractors at around 12.45pm on Monday 10 August 2015.

Several roads were closed with police warning of "significant traffic disruption".

A Tower Hamlets spokesperson said: "We have been made aware that an unexploded World War Two bomb has been uncovered at a building site in Bethnal Green - at the junction of Temple Street and Old Bethnal Green Road.

"The surrounding area is currently cordoned off to pedestrians and traffic.

"We are taking the advice of the Metropolitan Police and London Fire Brigade and will follow the council's Emergency Planning procedure to ensure residents and visitors to the borough are kept safe.

"Residents and visitors are advised to avoid this area. We have set up a rest centre in a local school with a full Rest Centre Team en route to the school.

"Further information will follow in due course."

Police advised motorists to avoid several roads including: Old Bethnal Green Road, Warner Place, Squarres Street, Bethnal Green Road, Cambridge Heath Road and Hackney Road.

After the 250kg mortar shell was discovered a 100-metre hazard zone was set up by London Fire Brigade and the Metropolitan Police.

Transport for London (TFL) said there was no impact to Tube or overground services, but that four bus routes faced mini-diversions.

Last month a similar unexploded device was discovered in west London, leading to the closure of the Westfield shopping centre.

Army experts were called in from Colchester around 4pm, as part of a long-standing partnership with the Met police, said the Ministry of Defence (MoD).

Specialists from the Explosive Ordnance Unit arrived at the scene just after 5pm.