Unicyclist Bus Crash
29 May 2015, 15:45 | Updated: 29 May 2015, 15:50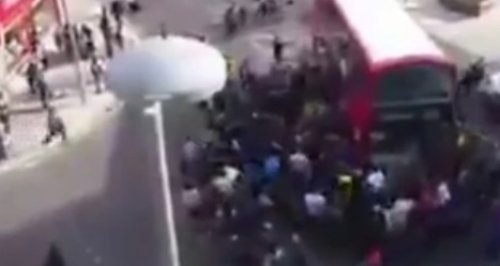 A unicyclist is in a serious condition in hospital after a crash with a bus in east London where scores of people rushed to lift the vehicle off the trapped man.
The crash happened in Walthamstow just before 6pm on Thursday 28 May 2015 and involved the number 212 bus.

Cafe owner Sami Ullah told London's Evening Standard: "There were so many people gathered there. There must have been about 50 to 100.

"They somehow managed to pull the bus away a bit. We were amazed - it was a heavy bus, a double-decker. Police were here straightaway and they took over."

Kyra Sam told the Standard: "I'm really amazed at the strength of Walthamstow - no-one hesitated to push the bus off. I was in shock."

She added: "Everyone really came together to help. It was really nice to see that in the face of something so awful."

Police said there have been no arrests.
Watch the video