Voyeur Doctor Jailed
26 November 2014, 18:22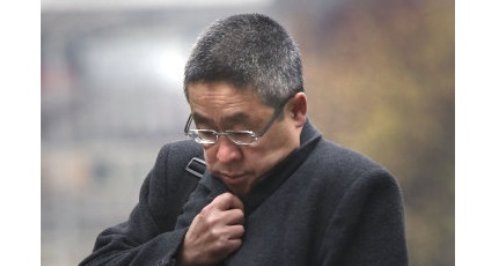 A South London doctor who set up hidden cameras to secretly record hundreds of people has been jailed for five years.
World-renowned hearing specialist Dr Lam Hoe Yeoh admitted seven counts of voyeurism, six counts of making an indecent photograph of a child, and one of possessing extreme pornography when he appeared at Croydon Crown Court in south London.

The 62-year-old from Malaysia (pictured), who is also known as Robin, was caught only when a tiny camera he fixed to a communal toilet at the privately-run St Anthony's Hospital in North Cheam, south London, fell into view.

On it, shocked staff found images of themselves using the toilet, as well as footage inadvertently capturing Yeoh fixing the device with Blu-Tack. The eerie 20-second clip of Yeoh was released by Metropolitan Police today.

Sentencing Yeoh to the "substantial" jail term of eight years in prison today, of which he will serve five years before being released on licence, Recorder Warwick McKinnon described the offending as "nefarious and despicable".

He said: "The sheer scale, the gravity, the ingrained and compulsive behaviour demonstrated by the offences is significantly important.

"You are considered a high risk to the public.

"(Had you not been caught), I have no doubt that this prolific offending on a hitherto unprecedented scale would have continued."

One of Yeoh 's victims waved sarcastically as the shamed doctor was led from the court to begin the sentence.

Speaking outside court, police said Yeoh was "one of the most prolific non-contact offenders ever investigated".

Victims as young as three were discovered on a secret stash of 1,100 images and video files hidden in Yeoh's home in Garratts Lane, Banstead, following his arrest on April 14.

Prosecutor Peter Clement described the offending as "sophisticated, organised, planned and long-running", and said the renowned doctor "grossly abused" the high degree of trust placed in him.

He added: "The (voyeurism) offending was vast and beyond any previously investigated by the Met.

"His intention was sinister, indecent and criminal."

The court heard the offending dated back to January 1 2011, but Yeoh's behaviour is likely to have begun earlier as it would take another two years for police to examine the huge volume of files found on a range of devices.

Yeoh's footage was captured using a network of devices including pen drives and camera-watches, and labelled with "graphic descriptions" that included dates and names.

Footage included a woman changing her sanitary towel, while another was marked "have period".

When Yeoh was arrested, a USB hanging around his neck contained clips labelled "Cardiff Train Teenager".

Yeoh spliced together sections of film to create compilations, the court heard.

His offending took place in a number of locations across the country, including Portland Hospital in central London, and medical facilities in Exeter, Sutton, Nottingham and Thames Ditton.

Prosecutor Mr Clement said almost all victims - more than a dozen of whom were in court - expressed a sense of unease at using any bathroom other than their own and were "slow to trust" others.

Defence counsel Sally O'Neill QC said Yeoh, who is said to have obsessive compulsive disorder, felt the "most enormous relief" when his actions were discovered.

Yeoh, who spent much of the hearing weeping with his head bowed and his left hand splayed firmly across his face, showed no emotion as he was sentenced, while those in the public gallery wept and cheered.

Speaking outside court, Detective Constable Aaron Moon praised the victims for coming forward.

He added: "In carrying out his well-organised campaign of making opportunistic images of both adults and children, Dr Yeoh abused his position of trust for his own sexual gratification.

"With images of people filmed in consultations and lavatories, his footage is truly appalling and abhorrent.

"We believe he (Yeoh) is one of the most prolific non-contact offenders ever investigated by the Metropolitan Police or any other police force in the country.

"But now the lie he has led for many years has been exposed and he has been forced to answer for his actions."

The judge gave Yeoh limited credit for his guilty plea, but said he considered him a danger to the public.

Yeoh was given an eight-year term for six counts of making an indecent image of a child, of which five years would be served before being released on licence.

He was given 17-month jail sentences for five counts of voyeurism, nine-month terms for two further counts of a similar nature, and a nine-month sentence for possessing extreme pornography.

All sentences will be served concurrently, meaning he will spend five years in prison. He must also sign the Sex Offenders' Register for life upon release and has already applied to be struck from the medical register.

Outside court, victims said they were "relieved" the ordeal was over.

St Anthony's Hospital director Melvin Robson said: "The events surrounding Dr Yeoh's arrest occurred under previous ownership of the hospital.

"The primary concern of Spire St Anthony's Hospital is always the welfare and safety of our patients and staff. We take this responsibility very seriously, and set extremely high standards across every aspect of our organisation.

"As soon as these issues came to light, immediate action was taken to contact the police and to suspend Dr Yeoh from practising at the hospital. He has not worked at the hospital since April 2014.

"We are extremely sorry for any distress caused to patients and their families by the actions of this one individual."

Patients with concerns about Yeoh can email police at operationsnowland@met.police.uk.