Walthamstow Murder
17 March 2015, 19:15 | Updated: 17 March 2015, 19:22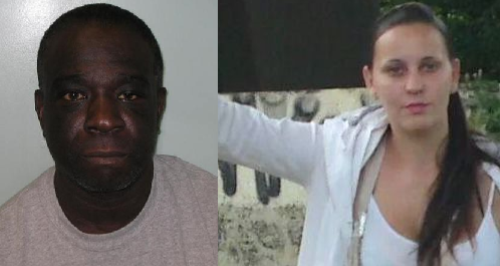 A man who smashed his way into the east London home of a young woman and stabbed her in front of a six year old child is facing a life sentence after pleading guilty to murder.
Lloyd Byfield, 48, (pictured left) had pursued a relationship with 26-year-old Leighann Duffy (right) before he armed himself with a claw hammer and a knife for the "pre-planned" attack.

On September 1 2014, he burst into her living room and stabbed her in the arm and neck. Ms Duffy died in hospital two days later.

A six-year-old child who witnessed the assault at the flat in Hatherley Road, Walthamstow, east London, suffered minor injures, but did not need hospital treatment.

The murder weapons as well as a home-made knife sheaf were recovered from the scene and Byfield was quickly identified as a suspect, police said.

He was arrested days later after he stopped a PCSO in Walthamstow High Street saying he was wanted by the police.

Despite confessing to the officer that "the devil came into his head" during the attack and that "there was no point in hiding" from police, he later refused to answer questions.

However, forensic evidence at the scene, phone records and witness accounts provided "overwhelming evidence" of his guilt, police said.

During a brief hearing at the Old Bailey, Byfield, of no fixed abode, admitted Ms Duffy's murder and Judge Nicholas Cooke QC remanded him in custody to be sentenced on Friday, April 10.

Afterwards, Detective Chief Inspector Glen Lloyd said: "This was a despicable attack on a woman at home with a young child - a place where she was entitled to feel safe.

"Byfield has shown callous and murderous intent by forcing his way in and then proceeding to inflict fatal injuries on Leighann Duffy in a pre-planned attack.

"Byfield was motivated by jealousy as he had previously wished to pursue a relationship with Duffy. I can only hope today's conviction goes some small way to helping her family recover from what has been a horrendous ordeal."