Water Cannon Ban
15 July 2015, 19:00 | Updated: 16 July 2015, 19:04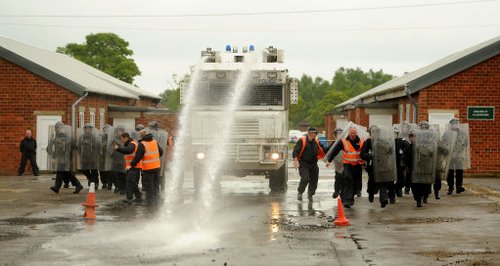 The Home Secretary has refused permission for police in England and Wales to use water cannon to tackle things like rioting.
It leaves the Met Police with three water cannon they cannot use.

The Home Secretary said she was rejecting requests for the machines to be made available to control riots and serious public disorder.

She highlighted evidence that the equipment could cause injuries, warned it could damage relations between police and communities and said she is unconvinced by the "operability" of the 25-year-old cannon in question.

Her ruling is embarrassing for London Mayor and cabinet colleague Boris Johnson, who authorised the purchase of three second-hand cannon for Scotland Yard from German police at a cost of more than £200,000 before they were cleared for use.

Mr Johnson later admitted he disagreed with Mrs May's stance, while the Metropolitan Police expressed its "disappointment".

Water cannon have never been used on the British mainland, although they have been deployed in Northern Ireland. Calls for police to have access to them first emerged in the light of the riots in 2011.

Scotland Yard concluded that there could be a role for the equipment and police chiefs later submitted a formal request for Ziegler Wasserwerfer 9000 to be available nationwide.

The Home Secretary told the Commons she had decided not to authorise their use by forces in England and Wales after "thorough and exhaustive" testing.

She said: "Water cannon, without safeguards, have the capacity to cause harm. It is a police tactic that has not been used in Great Britain previously and there are those who argue that its introduction would change the face of British policing."

Mrs May said medical and technical issues raised in assessments "do not give me the degree of confidence that I need to authorise" the cannon.

Evidence suggests that the cannon are unlikely to result in serious or life-threatening injuries but reviews had posed a series of "direct and indirect medical risks" from their use, she said.

These include the possibility of musculoskeletal injuries such as spinal fracture, as well as concussion and eye injuries, Mrs May said.

She referred to an incident in Stuttgart, Germany, in which a a 66-year-old protester was blinded by a similar model.

The Home Secretary said the cannon are 25 years old and required "significant" alterations and repairs to meet necessary standards, while she disclosed that experts found 67 outstanding issues which would need to be addressed before they could be deployed.

She said the devices have limitations, particularly in "fast, agile disorder", while police chiefs raised the possibility that they may attract crowds to a "vulnerable" location.

Mrs May also suggested the use of cannon could be "entirely counter-productive" in areas with a history of mistrust of the police.

"This country has a proud history of policing by consent and this is a decision which goes to its very heart," she said.

She insisted she has been determined to give police the powers and tools they need to cut crime.

"But where the medical and scientific evidence suggests that those powers could cause serious harm, where the operational case is not clear, and where the historic principle of policing by consent could be placed at risk, I will not give my agreement," she added.

Mr Johnson, who previously offered to be sprayed by a water cannon to demonstrate their safety, said Met Police commissioner Sir Bernard Hogan-Howe, Prime Minister David Cameron and 68% of Londoners backed the use of water cannon.

He said he had been told the machines are "perfectly serviceable", telling Sky News it was "curious" that reasons given by the Home Secretary "don't seem to apply to the people of Northern Ireland".

He added: "All I can say is, I understand, accept her point of view. It is not one I necessarily share. "

Mr Johnson insisted it had not been foolish to buy the cannons without permission to use them and denied that today's decision would strain his relationship with Mrs May, who is seen as a rival to succeed David Cameron as Conservative leader.

He said police would keep the cannon already purchased "in reserve" in case a fresh application to use them is needed in the future.

In a statement, the Met Police said: "We fully respect the Home Secretary's decision but we are naturally disappointed.

"We believed allowing police the option of deploying water-cannon, even though they would be seldom seen and rarely, if ever, used, was a sensible precaution which would allow us to deal with a number of specific public disorder situations more safely and effectively than we are currently able to."

The force confirmed the cannon would be retained and used for training.

The Prime Minister's spokesman said he respects the Home Secretary's decision, which was supported by shadow home secretary Yvette Cooper.

Chief Constable David Shaw, of the National Police Chiefs' Council, said he "fully respected" Mrs May's decision, adding: "The Home Secretary has undertaken a detailed, thorough process of assessing the technical, tactical and medical implications of water cannon and the police service will of course abide by her decision."