Wife Murderer Jailed
24 March 2015, 19:00 | Updated: 24 March 2015, 19:07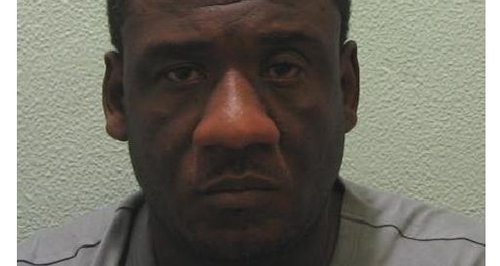 A man from Brixton who murdered his wife and stabbed two other women in a killing spree has been jailed for at least 29 years, after which he will be deported to his native Jamaica.
Desmond Brooks, 42, accused his victims of "nagging" and "disrespecting" him before he armed himself with knives and launched the horrific 35-minute rampage of violence at two flats on the evening of July 29 2013.

He was jailed for life with a minimum of 29 years at the Old Bailey after pleading guilty to murdering his wife.

He was also sentenced to 19 years for the attempted murder of his ex-girlfriend plus 12 years for inflicting grievous bodily harm on his sister-in-law, all to run concurrently.

The court heard that Brooks began by attacking his ex-girlfriend, Joan Wade, in front of a young child as she lay on the sofa in the living room of the flat they shared in Redlands Way after telling her: "You think I'm playing? I'm going to kill you."

Horrified neighbours and passers-by witnessed him chopping and slashing at the 46-year-old with a meat cleaver and a kitchen knife after she fled on to her balcony.

Arming himself with another knife, Brooks then went to the nearby home of his estranged wife, Keisha McKenzie, 28, in Tilson Gardens and began stabbing her in the hallway as soon as she answered the door after saying: "Suck your mum, Keisha, you're for dead."

Ms McKenzie's 17-year-old sister, Saffron Yeboah-Simpson, repeatedly jumped on the back of the heavily-built Brooks to try to stop the assault before barricading herself in the bathroom to protect a seven-year-old boy who was screaming and blood-spattered.

Brooks broke off from the assault on Ms McKenzie and forced his way through the door to repeatedly stab Miss Yeboah-Simpson's head despite her grabbing the knife with both hands.

The defendant, who had 10 convictions for cannabis offences since he arrived in the UK in 2002, remarked "Suck your mum" after he left the flat and walked on to a bus.

Later that evening, he phoned his girlfriend and confessed: "I just killed Joan and my wife."

When asked why, he replied: "I'm fed up with it", adding that they took him "for a boy", prosecutor Simon Russell Flint QC said.

When he got on a bus at Streatham Common, Brooks asked the driver to flag down the first police he saw, saying: "It's me they're looking for."

As he was apprehended shortly afterwards, he told police: "I want to hand myself in. I killed my wife. I cannot take it any more."

He said he could not take them "nagging me all day, disrespecting me in front of others", the court heard.

A post-mortem examination found that Ms McKenzie had more than 42 separate injuries which included a severed jugular vein, collapsed lungs and multiple wounds, particularly to her upper body .

The young child present in the house where she was killed was covered in blood but otherwise unhurt.

The two other victims suffered significant and life-threatening injuries.

As well as multiple stab wounds, two of Ms Wade's fingers were chopped off as she tried to guard herself from the onslaught and her lip and tongue had been sliced through.

One doctor described her hand injuries as some of the worst ever seen, the court was told.

In mitigation, Elizabeth Marsh QC said Brooks may have been suffering from previously undiagnosed paranoid schizophrenia which had only been identified since he was on remand.

She said: "He wishes to apologise and say sorry. He is at a loss to understand why he would have hurt the women closest to him. He cannot in any way understand what would have provoked him to that."

Sentencing him, Judge Stephen Kramer said: "Over the period of about an hour on the evening of the 29th July 2013, you engaged in a stabbing spree properly said to be of extreme violence and ferocity. The catalogue of injuries inflicted is truly appalling."

He said Ms Wade and Miss Yeboah-Simpson would be permanently disfigured as a result of the extensive injuries they suffered.

Their victim impact statements made it clear there was also a damaging psychological effect of what Brooks had done to them, he added.

He took account of psychiatrists' reports on Brooks' mental illness, although the court heard there was evidence to suggest that he may have feigned some symptoms.

While on remand at Belmarsh Prison, Brooks had tried to kill himself and was transferred to Broadmoor hospital where he has remained, the court heard.

The defendant, who will be deported upon his eventual release, yesterday pleaded guilty to Ms McKenzie's murder, Ms Wade's attempted murder and grievous bodily harm on Miss Yeboah-Simpson.

Relatives of the victims held hands and tearfully hugged each other as he was sentenced today.


Brooks arrived in the UK in 2002 and was granted permission to stay as a visitor until 2003 when he was given a student visa and married Ms McKenzie.

By the time of the murder, the couple had separated and there were active deportation proceedings under way.

The court heard that he would "inevitably" be sent back to Jamaica once he has served his sentence.

Afterwards, family of Ms McKenzie and Saffron said: "After 20 months the family of Keisha McKenzie are satisfied that we finally have some justice for Keisha.

"We have lost Keisha forever but no amount of years will bring back the loving mother and bubbly, smiley daughter, auntie and sister that we all knew and loved.

"We would like to thank the investigating team and all who have supported us during this traumatic and difficult time."

Investigating officer Detective Chief Inspector Will Reynolds, of the Homicide and Major Crime Command, added: "Brooks went on a lengthy and extremely violent rampage, intent on harming the women in his life.

"Keisha's injuries were so severe she never stood a chance while Joan is still recovering from her horrendous ordeal.

"His excuse was that he could no longer face the perceived 'disrespect' shown to him by these women. I am pleased he at least admitted his crimes and will now serve a lengthy sentence behind bars."