Jamie and Emma surprise Children's Liver Disease Foundation with £80,000!
13 April 2018, 06:00 | Updated: 13 April 2018, 11:31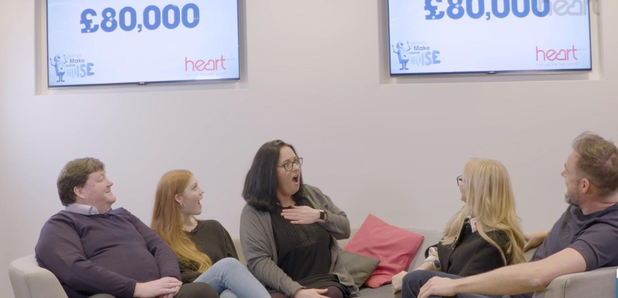 Children's Liver Disease Foundation is one of the brilliant small projects supported by Heart's Charity Make Some Noise.
We sent Jamie Theakston and Emma Bunton down to visit Jamie, Daisy and Alison from the charity under the guise of a meeting but little did they know the Heart presenters would be presenting them with a cheque for £80,000!
The charity provides a wide range of services to people who have been directly affected by childhood liver disease.
Daisy only knows this too well, as she explained: "It's definitely hard, the struggles and having obstacles in your way but having charities like Children's Liver Disease Foundation, helps you to see other people who have overcome it."
Children's Liver Disease is just one of the many charities Heart has chosen to support as part of Global's Make Some Noise.
Over the past 12 months we've been asking for your help too — and the hard work from all your bake sales to extreme challenges has paid off!
It's thanks to your amazing efforts that Global's Make Some Noise has been able to give out a staggering £2,500,500 to 33 special small projects, so they can continue their life-changing work with youngsters and their families living with illness, disability or lack of opportunity.
Your generous donations will help us provide:
15,088 hours of support for youngsters living with disability
4,340 hours of much-needed help for young carers
4,772 hours of counselling for children experiencing illness or bereavement
4,679 hours of support for young people and their families affected by suicide and homelessness, and so much more.
We'll also be funding 67 roles at the charities, and paying for specialist equipment - including a 3D printer to create models of children's hearts for surgeons to study ahead of surgery, and a sensory library for children affected by sight loss.
Thanks to you, Global's Make Some Noise will be able to help almost 17,000 children and young people up and down the country over the next two years.