Jamie Theakston's Funniest Heart Breakfast Moments!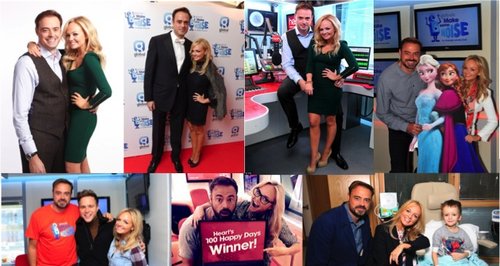 As Jamie Theakston celebrates 10 years with Heart Breakfast, here's how we celebrated and we look back at some of his funniest, cheekiest and show-stopping videos.
Here's what happened on Jamie's 10th Anniversary on London's favourite breakfast show.
Whether it's getting his ear pierced live on air, singling along to 'Wannabe' or even experiencing the pain of childbirth, there is nothing our Jamie wouldn't do to keep us entertained on Heart Breakfast.
Jamie, Emma and Jamie Oliver belt out 'Wannabe'
Jamie Oliver on the drums, Jamie on the keyboards and Emma on the vocals! We'll never forget this musical milestone.
Jamie and Emma faked some noise for Global's charity.
Jamie gets a piercing live on air!
There's nothing more entertaining than seeing Jamie in pain!
Jamie joins JLS
We knew there was a secret pop star inside Jamie just waiting to get out!
Jamie gets flirty with Miss Piggy
Jamie uses his charms to woo the iconic Muppet.
Jamie gives birth!
We still can't stop laughing at the moment when Jamie experienced the pain of childbirth.
Jamie fools Dynamo!
Jamie impressed the street magician with his magic tricks.
Jamie gives Blue a real shock…
Jamie enjoyed punishing the boys of Blue just a bit too much, and it's hilarious!
Jamie and Emma get their own voice over in 'Planes 2'!
Who could forget the moment Jamie was given the opportunity of a cameo in the Disney film.
Well done Jamie on your amazing 10 year journey...Here's to ten more years!