Kermit And Miss Piggy Join Emma Bunton And Jamie Theakston In The Studio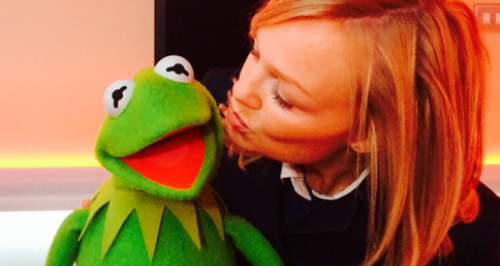 Watch what happens when Jamie and Emma are joined in the Heart studio by a pair of very special guests.
Kermit begins the interview as the perfect gentleman, complimenting Miss Piggy on how beautiful she is even when she isn't wearing any makeup...bless!
Jamie then asks Miss Piggy and Kermit about their favourite things to do in London. Miss Piggy loves the Crown Jewels, whilst Kermit prefers skinny dipping in the Thames...rather you than us Kermit!
However, things take a turn for worse when Emma and Kermit decide to do a live duet together on Heart!
The pair go on to sing a romantic duet of '2 Become 1' and Miss Piggy certainly isn't happy about it...if looks could kill!
"Miss Piggy please stop looking at me like that" begs Emma.
A disgruntled Miss Piggy only replies: "We're going to have to talk about this later Kermit".
We expect he might be in more than a spot of trouble when he gets home!
Watch the full, hilarious interview below: