Jamie & Emma's Birthday Bucket List!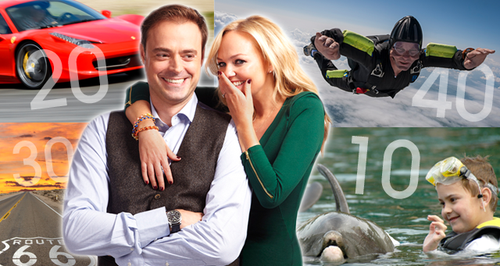 Is there something you've always wanted to do? We could make it happen!
Our Emma is celebrating her big 40th this week and we're going to tick something off her 'Birthday Bucket list'.
We wanted to tick something off YOUR bucket list too so this week we're making a few birthday dreams come true!
Wednesday
Sharleen wanted to experience all of London's top tourist attractions so we arranged for her to visit SEA LIFE London Aquarium, The London Eye, London Dungeon, Shrek's Adventure, Madame Tussauds, The View From The Shard and go on a London Duck Tour! To round off her incredible day she'll be spending the night at the London Hilton Hotel!
Tuesday
It's 20 year old Beckii's turn! She wanted to go skydiving so Jamie and Emma sorted it out with the help of www.ukskydive.com
Monday
Jamie and Emma tick an item off 10 year old Amy's list... a segway ride with www.segwayevents.co.uk Thrill-seekers can get a taste of travelling on two wheels with an outdoor Segway Events experience at 14 locations across the UK. Visit www.segwayevents.co.uk to book your experience today!