WATCH: This Morning Viewers Left Baffled By Dog Owners 'Furjazzling' Creations
17 August 2017, 12:16 | Updated: 17 August 2017, 12:33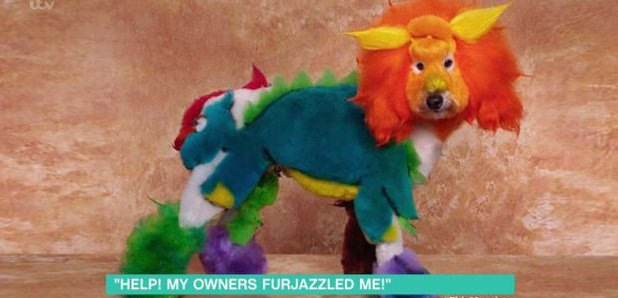 Some viewers were left scratching their heads over the latest dog craze, which sees the pooch's fur dyed and moulded into bizarre creations.
We've seen some pretty odd things on This Morning but after the latest episode, we think we've seen it all.
It seems that taking your pooch to the parlour for a wash and a trim simply isn't enough for some owners who prefer their dogs to stand out.
A bizarre new trend called 'Furjazzling' sees owners dying, cutting and moulding their dog's fur into a variety of shapes and styles.
Championing the trend was dog owner Daniella who appeared on This Morning with her pooches Venice and Malibu to discuss how she's been conducting 'creative grooming' for ten years.
Speaking on the show, Daniella said: 'Venice is a superstar. She's done modelling in a national TV commercial, she's been in a music video, she does a lot of TV – that's why she gets creatively groomed."
"People say it's all about me, do you know what happens when I go out with Venice? They say, 'can I have a selfie with the dog? Can you just get out of shot?" It's all about her."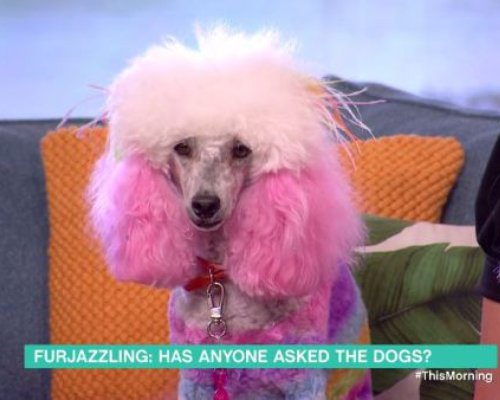 One of the dogs had a very special look as she had turned it into a Triceratops!
After giggles from Eamonn and Ruth asking if she was trying to groom a lion, Kat said: "It's actually a Triceratops, so he has the three horns and there's this crest."
Some viewers were outraged and took to Twitter to vent their fury.
#ThisMorning is making me mega angry! What are these people doing to their dogs! Borderline animal abuse!

— Harry Joseph Wood (@WoodHJ) August 16, 2017
That's cruel and horrible. The dog doesn't get a choice in this!! #ThisMorning

— Nick Blumlein (@nick_blumlein) August 16, 2017
While others were just confused...
I actually thought she was trying to get it to look like pikachu #thismorning

— stones_n_sticks (@stones_n_sticks) August 16, 2017