Baby Hospitalised After Fire
30 July 2013, 09:50 | Updated: 30 July 2013, 13:14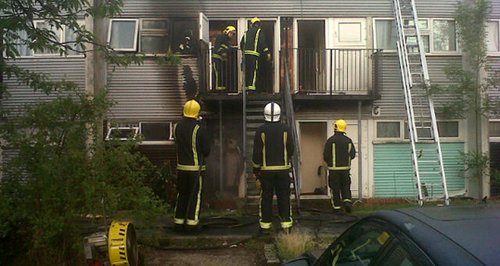 A baby girl's had to go to hospital after a fire in a house in Milton Keynes split into flats.
Firefighters from Broughton, Great Holm and Bletchley were called to The Hide, Netherfield, at 5.24am on Tuesday 30 July 2013.
They found a fire in a utilities cupboard outside a ground floor flat. The fire was affecting four flats inside a mid-terraced house.
The alarm had initially been raised by a smoke alarm going off.
A baby girl inside a neighbouring property was taken to hospital.
All the occupants were accounted for after initial fears that a man was unable to get out of his flat.
Station Manager Tim Parkins, who also attended the fire, said: "The front of the building was well alight when the first crew arrived, and smoke was entering the building.

"Firefighters quickly brought the fire under control and were able to prevent it from causing further damage.

"The police did a great job managing the scene and looking after the cordon while we dealt with the fire."

Firefighters wearing breathing apparatus used two hose reels to put out the fire, a large fan to clear away the smoke and a thermal imaging camera to check for hot-spots. Gas engineers isolated the gas supply.
There's no word yet on what caused the fire.